didi rugby is certainly 'the way forward' for Old Coventrians RFC mini and junior chair, Jane Waterhouse.
That's no surprise give the 12 months that the club's youngest age group have had since beginning didi rugby as a pilot scheme at their Tile Hill Lane home in 2021.
Old Coventrians welcomed the team from didi rugby Coventry and Warwickshire, led by Andy Fox, into their club to try and build from the bottom upwards and create a group of youngsters who could add numbers to their under-7s team.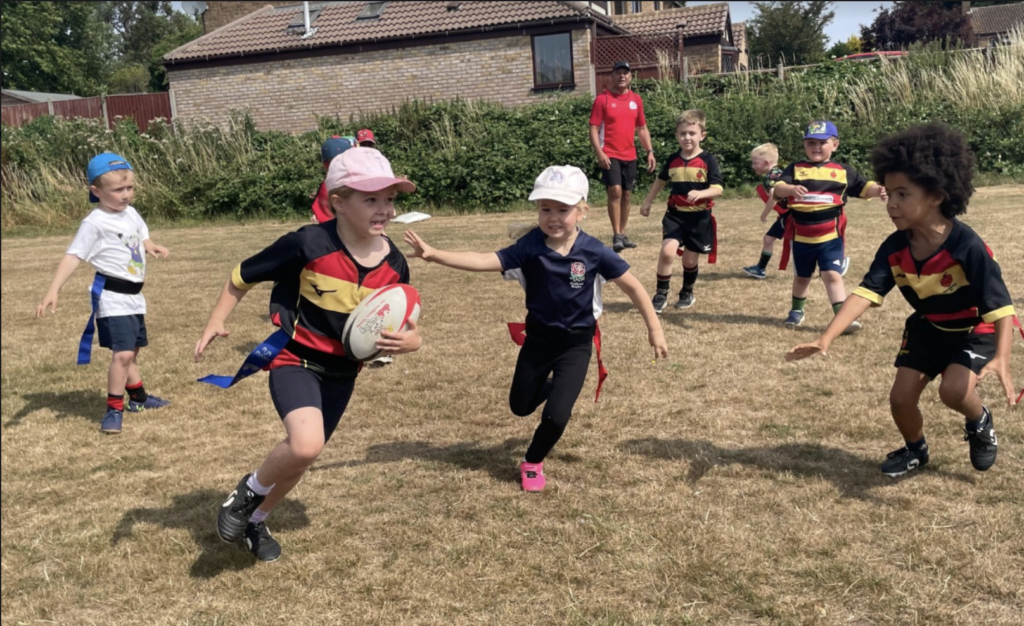 Progression of didi rugby classes
As Jane explains, what started as a bit of a punt, has now created just the sort of influx of children – and parents – they were hoping for.
"I have been our mini and junior chair for a number of years now and we have around 200 children in our club from under-7s upwards," said Jane.
"We started didi as a bit of a pilot scheme about a year ago and specifically targeted reception and Year 1 children so we could focus on having more members in our under-7s.
team spirit
"We knew we had some young children whose parents told us wanted to play rugby, so we welcomed didi rugby in and identified some pitch space for the classes too.
"A year down the line and didi has given us a ready-made under-7s team that is ready for mainstream rugby. They can already play rugby to some extent, catch and pass a ball and they also know about team work and team spirit too.
"Not only that but our didis have their own designated pitch space and love their sessions on Sundays. They have integrated well and are a real part of the club.
"The kids really enjoy it and we have had around a dozen or so kids move up into the under-7s which has really made a difference.
"We have also added new parents and they have become part of that special rugby family feel to the club which has been great to see for us.
"Andy Fox has been great and so have the coaches.
"didi rugby is definitely the way forward."
didi rugby parents
Parents of didi children have also loved the inclusion of classes at the club.
Leonie said: "My child started with didi in their 4-6 section at Old Coventrians RFC in early spring 2022. The didi experience was excellent and the coach was so welcoming for children and parents.
"The sessions were always fun, different and really helped the children learn the basics needed for tag rugby. The didi programme also instilled a sense of team and belonging for my child which has carried on into joining the under-7s team at OC.
"Having didi at the foundation level of rugby has meant that quite a few of the under-7s have been confident enough to play in matches against other clubs very quickly.
"My child now has all the benefits of being a didi & OC's player, like a strong team ethic, desire to learn new skills and most importantly, to have fun while playing rugby."
Listen to instructions
Roni added: "didi rugby was a brilliant way to introduce my child to rugby. Then the transition from didi to under-7s was smooth because the children and parents already knew each other and the club set up.
And Kate said: "I think didi rugby was a very gentle way to settle kids into having to listen to instructions from an adult (ready for a coach), building up friendships with the other kids (helped them feel like a team more quickly when they moved to under-7s) and basic tag rugby with their sharks and fishes games."
To find out more about didi rugby classes at Old Coventrians, contact Andy Fox on andy.fox@didirugby.com
For any more information about Old Coventrians mini and junior set-up, contact Jane on janewrfu@gmail.com.
WATCH: Our didi Midlands classes are coached by our CEO…