Founder and CEO Vicky Macqueen has paid tribute to children, parents, carers, coaches and franchise owners who have helped didi rugby bounce back from lockdown and now be in a position where classes across the UK are 'absolutely booming'.
With regular classes filling up rapidly, areas in places like Sutton Coldfield and Stafford have even added extra sessions to meet demand.
Similarly, the launch of a new didi rugby area in Harrogate, set for September 19, has over 100 children booked in for what is set to be an exciting and busy day.
"It has been astonishing," said Vicky. "The demand we have seen for our provision has gone through the roof and it has been amazing for our local coaches to see the smiling faces of the children they were entertaining via Zoom during lockdown.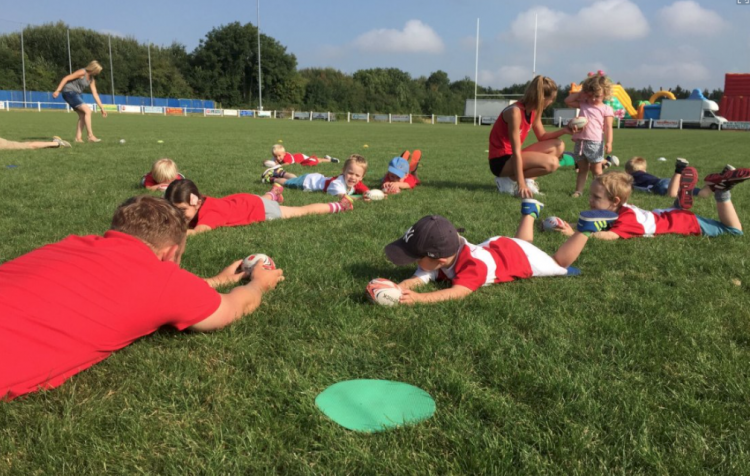 "We spoke as a group of coaches and franchises on a regular basis during lockdown planning our recovery when restrictions had died down. We discussed putting ourselves into a position where we could 'survive then thrive' when we were allowed to go back to face-to-face delivery.
"The planning and detail that went into our return was thorough and I would like to thank all of those involved in getting didi rugby classes back up and running and all parents and children who have been quick to trust our safety measures and return to outdoor classes with a smile on their face."
Indoor and outdoor didi classes came to a dramatic halt – like most other things in the country – when PM Boris Johnson placed the country under lockdown in March.
But local didi coaches across the UK did an amazing job of maintaining engagement with their young stars and parents with online sessions during lockdown.
Classes booming
And since restrictions were lifted, didi HQ were very quick to re-start classes with social distancing and COVID cleanliness at the top of the agenda.
As restrictions have eased, didi classes around the country have seen an incredible influx of interest from parents who are looking for a safe environment to bring their child for some much-needed fun and activity.
With didi cricket also launching in selected areas too, Vicky says she has been overwhelmed by the support of franchise owners and coaches who have committed to returning to class delivery as soon as possible – and the way they have tackled a challenging situation to provide fun and activity for children in their areas.
Get active
And having home-schooled her own two young children through the lockdown period, Vicky says she has since met so many people who were delighted to be able to get out and get active with their kids.
"We have all been in the same boat haven't we? Stuck inside our four walls with children who were desperate to do what kids do best – get outside, playing and having fun," added Vicky.
"It has been a tough period for us all as parents but we have come out on the other side and didi rugby – and cricket for that matter – are absolutely booming as a result of some great commitment from our didi team and our parents and children. There are exciting times ahead."
Read more: Extra sessions laid out for Harrogate launch due to incredible demand. 
WATCH: One of Vicky Macqueen's 'Lockdown Challenges'…