didi rugby is moving onto the next stage of its development and becoming a franchise.
The business, founded and devised by former England Women's international, Vicky Macqueen has grown at a rapid rate since its inception in 2015.
Now, just two years later, more than 1,500 children are enjoying didi rugby classes on a weekly basis all around the country.
And a number of franchises are about to launch around the UK. Opening up a didi franchise will not only enable interested parties to develop their own businesses but it will be done with all the branding and infrastructure of the didi family already in place.
It will also give franchisees the chance to learn ideas and structures from founder, Vicky Macqueen, whose knowledge and skill-base gleaned from an international career, an RFU Level 3 Coaching qualification, and a teaching degree in physical education, has helped to devise the didi coaching guidelines for each separate age group.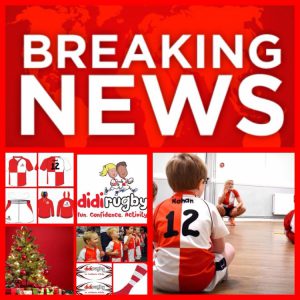 Tight-knit didi family
Franchise owners will become part of a tight-knit and dedicated didi family.
didi rugby franchises aim to create active, confident and skilful children in a safe and fun environment. That physical activity they enjoy then will provide a base for them to remain active in later life.
"We are all very excited about hopefully giving more children access to the game of rugby and the fun and skills it can provide," said Vicky.
"The success of the didi family so far has delighted us and enabled us to open dozens of centres around the country.
"I believe in what we are doing and so I want to keep pushing and have more and more people in place to get more and more children involved in the fun and values that rugby offers.
"We are hopeful that children who both try and enjoy didi rugby will go on to play for local clubs when they have come through our learning environment."