Hinckley Rugby Club in Leicestershire has seen an explosion of children joining the youngest age group and club coaching co-ordinator Tom Kilburn has praised didi Rugby for its role in that rise.
In fact, so big has been the increase in numbers at the club's junior set-up, they have decided to form a new age group of Under-6s to accommodate the extra children.
The majority of those additional members have come from didi Rugby classes in Hinckley and Burbage.
Tom explained that Hinckley RFC were not only delighted with the new players that had joined but were very impressed with the skills the Didi Rugby graduates had already picked up at such a young age.
"This season at Hinckley Rugby Club, we have seen a fantastic influx of young players and that has led to us having to re-think our offering," he said.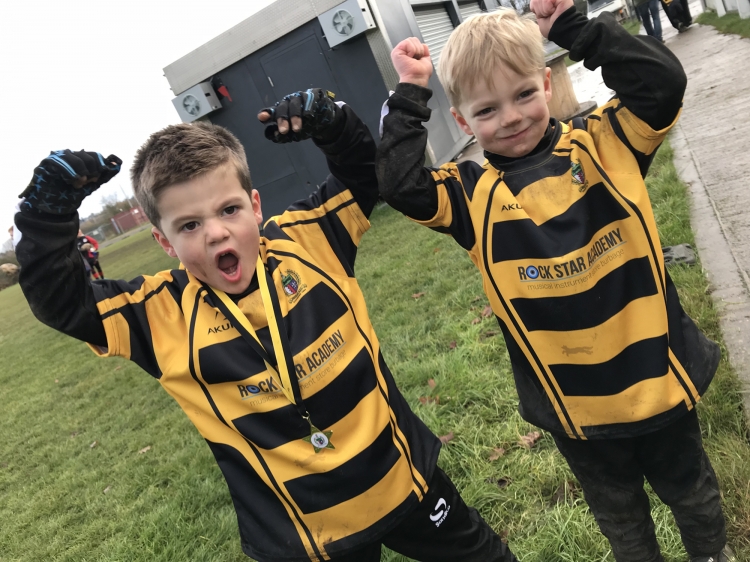 They can already catch and pass
"A normal yearly intake of Reception and Year 1 tends to be around half a dozen and they are normally siblings of older children who have trained with the Under-7s.
"This season has seen 40 children of this age range join us so we have had to create a brand new age group of Under-6s.
"I have been really impressed with the ability of these children, most are in possession of great motor skills, with the ability to listen and follow instructions well.
"The major positive I have found, is they can already catch and pass which helps a long way to making our sessions active, purposeful and enjoyable.
"The children that have graduated along the pathway are true testament to the fantastic work that Vicky Macqueen and her team are doing at Didi Rugby."
Vicky is the founder of Didi Rugby and said she was delighted that so many children had taken the natural pathway and joined club rugby after enjoying their sessions with Didi.
It's like a production line of smiley faces
"It is our goal to teach the youngsters as much as possible during our sessions and hope that they have enjoyed themselves so much by the time they reach the age of six, they decide they want to keep playing rugby at a club," she said.
"To hear that so many children from our Hinckley and Burbage classes have joined Hinckley Rugby Club is heart-warming for all of us involved in those classes."
"And to receive such kind words from Tom about the levels of skills the children already have is obviously a great testament to the programme we are running. Long may it continue."
John Tilley, the chairman of Hinckley RFC added: "The great thing about didi is that they work within clubs like ours to produce the next age group of kids ready to leap into Mini Rugby. Its like a production line of smiley faces!"
If you would like to try a free taster session at a Didi Rugby class close to you, find out where we are based: Find a Class