didi rugby's online classes are proving to be a massive hit with parents and children across the UK.
While the coronavirus has led to schools closing and even a lockdown on all but essential travel, didi rugby coaches across the country have reacted quickly and are providing their ever-popular classes online instead.
didi rugby HQ is committed to keeping children active and having fun during the most testing time for families across the country.
The reaction from children and parents has been incredible with huge support coming from households in terms of both engagement and positive feedback to the classes.
Because of their success, didi rugby is now ramping up the amount of sessions they are offering which cover three age ranges from as young as 18 months up to 6 years of age.
It has been great to see older siblings joining in the activities too.
Online classes
Easy-to-use online platforms have made the delivery of the classes simple for coaches, parents and children alike and attendance numbers are increasing all of the time.
didi rugby founder and CEO Vicky Macqueen, who has been delivering classes to her didi stars while home-schooling two children, said she has been over-joyed with the response.
"During tough times for families across the UK, it has felt amazing to be involved in something which is able to give so many people, so much fun," she said.
"We all miss our regular classes terribly and can't wait to get back to them when things become safer for all of us.
"But, until then, we will keep providing for our members via a fun, friendly and energetic online delivery, as well as making sure that our ethos of 'fun, confidence and activity' remains at the heart of everything we do.
"Because our classes are being delivered by the local coaches who usually run their sessions, it has been amazing to see the children's response when they see a face they recognise.
"Obviously, that has helped get the kids engaged from the very first minute and the rapport between the group has been great to see.
Book a class
"We have enjoyed some amazing responses from parents who say they are not only happy to get their kids active but to give them a structured focus during the day.
"Meanwhile, our coaches have found online delivery very rewarding and have been full of stories about brightening up people's day."
NON-MEMBERS Book your child a place on our national online classes by visiting our booking page
MEMBERS: For options of classes local to your area with the coaches you usually see at your face-to-face sessions, visit the Find A Class Page and click on your local link
VIDEO: Watch didi rugby South Wales coach Robyn Lock challenge you to a Lockdown Challenge
What is didi rugby?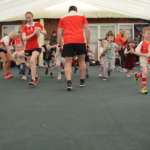 didi rugby has been devised to get young children active and to teach them new skills while having fun in a safe environment. Classes have been designed by former England Women's international Vicky Macqueen and are aimed at kids in three separate age groups from 18 months to six years old. These age ranges offer flexible boundaries and are based on each child's ability and confidence as opposed to a strict age structure. didi rugby has franchises across the UK.