didi rugby is looking forward to developing further links with local clubs following the announcement of the Rugby Union's Early Years Guidance Framework this week.
didi founder and CEO Vicky Macqueen was asked to advise the RFU on the newly-released document as the game's governing body has officially recognised the importance of developing the 18 months to five years old age group.
Their framework will now be sent out to all RFU-affiliated clubs in the country showing them the way to develop their own set-up.
And while working closely with clubs, those sort of set-ups have already been put in place by didi rugby franchises over the country during the last 18 months. didi rugby have become a recognised and trusted provider of the sort of age-specific learning that the RFU are now backing.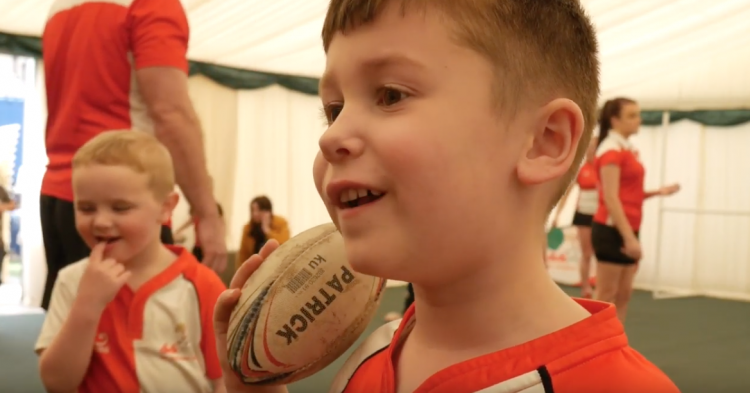 didi franchises are working with rugby clubs in England and Wales at: Beverley, Pocklington, Whitchurch, Crewe and Nantwich, Market Bosworth, Kenilworth, Loughborough, Shepshed, Ashby, Glais, St Helens, Hinckley, Lutterworth, Burbage, Coventry, Coventrians and Old Coventrians, Reading, Aldermaston, Thatcham, Lydney, Chipping Norton and Cinderford, with more in the pipeline.
Vicky's home club Hinckley RFC has already benefitted from a conveyer belt of six-year-olds who have joined the club after 'graduating' from didi rugby classes.
Massive success
Hinckley chairman John Tilley explained how dozens of children filtered into their minis section having been involved in didi rugby classes from a young age.
"We have had massive success linking up with didi rugby," he said. "I think it was around 40 new children who came into our under-6 age group last year.
"Not only were there 40 kids but they had done some good stuff already as well. didi rugby is a brilliant initiative and it gets kids active. Ultimately, that's what we are about isn't it? Getting kids active.
Hinckley's club coaching coordinator Tom Kilburn said at the time: "I have been really impressed with the ability of these children that have joined us. Most are in possession of great motor skills, with the ability to listen and follow instructions well.
Major positive
"The major positive I have found is that they can already catch and pass which helps a long way to making our sessions active, purposeful and enjoyable.
"The children that have graduated along the pathway are a true testament to the fantastic work that Vicky Macqueen and her team are doing at didi rugby
Mum Claire Cope had twins Alfie and Archie graduate from didi rugby into the Hinckley set-up and she said her lads had thrived during their time there.
"The have loved their time at didi and Vicky is the leader of the family," she said. "The coaches have been great too and always have a really good laugh with the children. It's fantastic."