didi rugby stars and their parents made the most of a tremendous opportunity as they were able to show off their considerable skills in the Wasps Rugby Fans' Village.
Before the Ricoh Stadium hosted Wasps' Gallagher Premiership game against Newcastle Falcons, children throughout the didi rugby age group were invited to take part in classes that were played out in front of big crowds in high pre-game spirits.
Hundreds of children and parents visited the didi rugby area and joined in the fun with coaches and founder Vicky Macqueen.
didi rugby was invited to show what it could do after hooking up with Wasps Community.
Vicky was also interviewed during the day in a broadcast which was shown on the huge TV screens in the Fans Village – nicknamed the Wasps' Nest.
didi rugby mascots Dougie and Daisy were spreading the fun too which was also enjoyed by franchise owners who helped put on a very busy class schedule.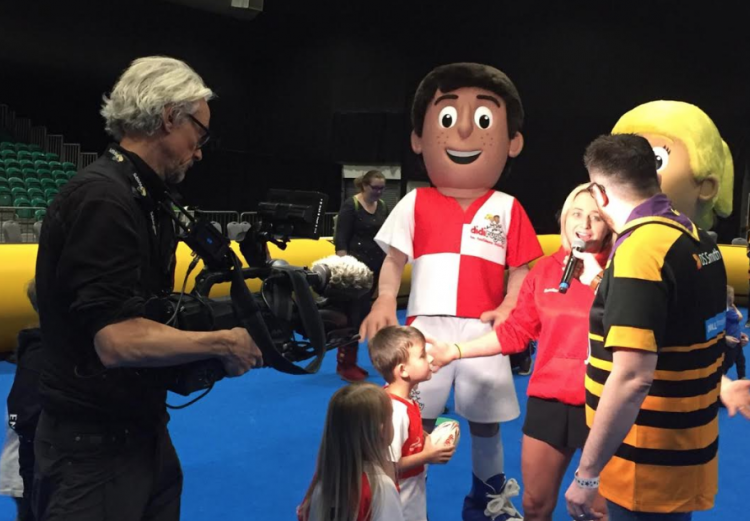 Free tickets
And Wasps Rugby lock Marcus Garratt also popped in to meet children and parents, answers questions and have pictures taken with visitors.
Families from all over the country, who attend regular didi rugby classes then enjoyed free tickets to the game outside after the fun inside came to an end.
And feedback from the event on social media spread some wonderful pictures and thank-yous from happy parents.
One of them, Sarah Whitmore said her son had enjoyed a day he wouldn't forget and posted on Facebook: "Zachy had the most amazing time at didi rugby's demo day at Wasps.
"Thank you so much to Vicky and didi rugby, he is so happy!
Physical ability
"I have said it before but the impact Vicky and Emma have had on him through didi rugby is something else! His physical ability has come on massively!"
Vicky Macqueen said: "It was fantastic to be centre of attention in front of so many people who could see what didi rugby not only has to offer, but realise what it means to the children who take part in our classes all over the area and further afield.
"A big thank you to Wasps for having us and to the parents who bought their kids and came from far and wide to take part in our demos and classes.
"They were also able to enjoy free tickets to the Wasps v Newcastle game and I hope they had as good a time as we did."