Opportunity to be an Athlete Mentor was a Privilege" – by Vicky Macqueen
'I was very privileged to be recently selected to be an athlete mentor for this year's National School Games at Loughborough University.
The four-day event was a fantastic taste of a multi-sport event on a huge scale for young athletes. It basically amounted to a Mini Olympic Games!
The young athletes had come through several rounds of competition within the school games competition pathway before they reached the pinnacle of National school  games.  There were teams representing Ireland, Wales and the different England regions ; North, the Midlands, south east and south west . I got the privilege of working with them all…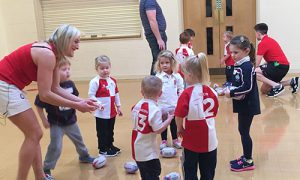 The young athletes enjoyed the whole experience from wearing accreditation to gaining access to areas where media and press conferences are held.
Athlete mentors delivered sessions to inspire and motivate the athletes with the core values of the games such as: honestly, respect, team work, passion, determination and self-belief.
We also delivered an athlete mentor Q & A session to hundreds of athletes that opted for the workshop on 'gaining the edge'.
It was a fantastic experience to be involved in such an occasion. I had the privilege to make an impact on the performance and experiences of young athletes that will remain with them throughout their career. Hopefully, it will also inspire them to achieve success in their chosen sport.
My highlight was when the Ireland squad won the final, and came running over to me to thank me for their talk in the morning which they say inspired them to victory!
I am not sure it was down to me but it was lovely that they felt that they had gained from me being there as a mentor for them. And it was great to know that I had made a difference to those determined young athletes"