Necrotising Fasciitis could have killed didi Rugby founder Vicky Macqueen in 2013.
It is a rare but extremely serious bacterial infection that affects the tissue beneath the skin and surrounding muscles and organs.
It came from nowhere and got hold of Vicky like a python.
It took hold of her body in a whirlwind and the speed at which it spreads meant she came very close to losing her leg in intensive care. Things could have got a lot worse too.
Five years later, the disease has gone and life with husband Phil and young boys Max and Harry is normal, but its passing has left an indelible mark on her.
When she had fully recovery, Vicky soon founded didi Rugby and began to drive a business that promoted all of the things she stood for: fun, enjoyment, education, friendship and activity.
Vicky also began running. Just to celebrate the fact that she had two legs to run with.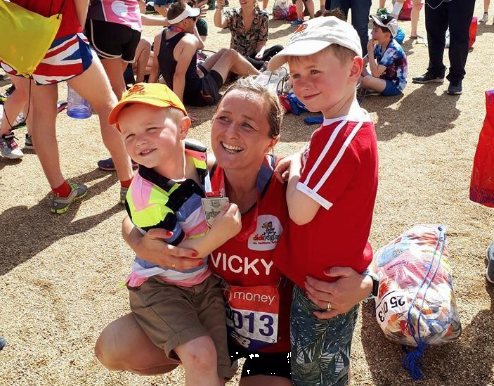 Crossed the finish line
Instinctively, this led to competition and the first race she took part in was the Leicester Half Marathon. The Stratford Marathon followed and the time she recorded there qualified her for the big one… the London Marathon.
Last Sunday, Vicky crossed the finish line of the world's most famous 26-mile course in a time of 3hrs and 56mins and raised over £1,500 for research into Necrotising Fasciitis, as well as and the Wooden Spoon Charity – which supports young children with disabilities or disadvantages.
It was no surprise that given the background to the run, the day in the capital city under a red-hot sun and watched by her family, was a thoroughly emotional one.
"My mum was at the finish line and it was really emotional," said Vicky. "I just shouted: 'I did it' and started crying. It reinforced the proof that I had got over what had happened to me and the emotion of that came out.
"Because I hadn't seen Phil and the boys throughout the race, it was amazing to see Harry up on Phil's shoulders a while after the finish. It was a very emotional day."
Training for London while running didi Rugby and looking after two young boys was no easy task, especially during a brutal winter that offered little in the way of respite from rain, ice or snow.
But those who have known Vicky from her days as an England international, where she earned 34 caps for her country, will know of her hell-bent determination to make a success of things that she sets her mind to.
Loads of donations
"Some of the training had to be inside on a tread mill out of sheer necessity," said Vicky. "But there had been loads of donations coming in and when I got to the start line, I felt really excited by it all.
"Then they played Land of Hope and Glory and the national anthem and I had a little emotional wobble because it made me feel like I was back playing rugby in an England shirt.
"Typically, I set off too fast on what was the hottest London Marathon day ever recorded but settled down well until around mile 14 when I started to feel light-headed.
"It soon dawned on me that I was not going to beat the time I had set out to do of 3:30 but I said that I simply have to finish this race because of the people who had come to support me and the reasons why I was running it. I kept thinking of my family and it started making me feel really emotional again.
"I soon got back into it and the crowd were amazing. You can hear them all shouting encouragement. It really is great to be a part of.
"By mile 23, I was flagging and still hadn't seen any of my family. Then I heard a shout of 'VICTORIA!' – and I knew it was my mum. The last three miles were intense and it was the hardest mental battle I had endured while running a race, but I was determined to do it.
"When I finally got there, I felt a huge mixture of raw emotions. There was absolute relief, and I collapsed in a heap crying. I was so proud of myself to have done something so special with the support of so many people behind me."