didi Rugby founder Vicky Macqueen took her boots and Deep Heat over to Ireland to return to the playing field once more in an England shirt after being invited to play in a Ireland Legends v England Legends game ahead of the Women's World Cup final.
"Not only for the fact that my competitive senses had been heightened by the promise of a hit-out and some competition.
But also because I was seeing so many friends and former team-mates in an environment that was so special to all of us.
In fact, the first person I bumped in to when I arrived at the ground was legend Carol Isherwood and it took me back to when I was first selected for the England Academy in 2002 when Carol was the women's programme's performance director.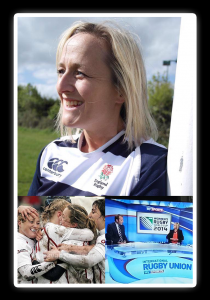 When I went into the team meeting room, there was time for some proper goose bumps though as I was surrounded by the very people I had looked up to when I first came into the England squad as a youngster.
The likes of: Gill Burns, Giselle Mather, Helen Clayton, Maxine Edwards were all there, as was Amy Turner and my ex-England captain Catherine Spencer. Seeing them all again brough back memories of the camaraderie and friendships that were born in a rugby shirt and will never go away."
As the team was announced, we were all told our red rose number and mine was #119. It was a very special moment because we and seen all the Women's World Cup squad tweeting about their red rose number and how special it was for them ahead of their World Cup final against New Zealand the following day. It really made me feel part of history.
As we warmed up, got our programmes and shirts in the changing rooms, had team photos and signed a few autographs on the way out for warm-up, I felt like I was in a time warp.
All of my senses were heightened and the distinctive smell of Deep Heat even registered in my memory banks. Then seeing the Irish team all lined up at the start reminded me of a great game against them in 2006 when we won the Six Nations Grand Slam in England. I scored a try on that day and enjoyed one of the best games of my life, so I felt very fired up"
"I ended up playing 80 minutes too. A fact that my lungs totally disagreed with! I absolutely loved every minute of it and came off the pitch knowing I had given my all in a great display of women's rugby."
"The game finished 12-12 – referee Alain Roland saw to that (in Ireland on his birthday) but the result really didn't matter. What was more important was the legacy we have left and the way we felt a part of the England family and the World Cup! Unfortunately, it wasn't to be for the England girls, led by Sarah Hunter, the next day in the World Cup final. The best two sides in the world put on an amazing display of rugby in Belfast on Saturday night. Unfortunately, for England fans, New Zealand got the upper hand but they deserved their win. I headed to the 'friends and family bar' after their final to meet up with them and then back to the hotel to remind them just how well they had played. It was a wonderful weekend"