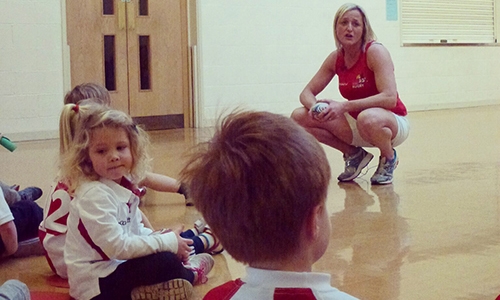 It's always time to take stock as the calendar year comes to an end and, personally, it has been truly rewarding seeing the growth of the didi Rugby during 2017.
Not only in terms of the growth within our own country, but with the amount of interest we have had from abroad too.
I believe passionately in what we are doing so the idea of spreading the word far and wide, across the oceans, is something that really excites me. Let's spread the love.
Domestically, in the UK, we have welcomed a new franchise in Swansea run by Robyn and Andrew Lock, one in Ascot & Windsor run by Hannah Field and most recently one in Reading run by Craig Hunter.
Swansea launches in early December and Ascot & Windsor will be getting underway early in the New Year, as will our New Zealand branch of didi Rugby, based in Canterbury.
We are looking forward to creating exciting and well-attended launches to support all of the hard work that the guys have put into setting them up.
We are just putting the finishing touches to confirming some big-name ambassadors to support Swansea too so watch this space.
We have begun classes in Reading recently at Westwood Farm Schools and there will be more to come in areas like: Bedfordshire, Isle of Man, Brighton, Bromley (London) and Staffordshire in 2018.
I am so excited to give more children across the UK and abroad the opportunity to be a part of didi Rugby. I have seen the physical, social and developmental benefits as both a mum, a hands-on coach and also from a didi Rugby founder point of view. I am so pleased with the positive effects on the children involved and the feedback we have been receiving has been fantastic.
Our online shop has now launched – watch out for our January sale!
This will allow anyone to click onto didi Rugby and purchase our kit and range of accessories. We pride ourselves in not making kit compulsory for children but it is funky and cool – if I do say so myself! Our accessories like water bottles, balls, and bags are proving very popular.
Also growing is our list of didi Rugby ambassadors who have put their name to our business because they believe in the values that we are spreading through our classes.
These ambassadors work hard to attend local classes and make themselves available for presentations and holiday camps when they have time. We are truly grateful to each and every one of the following: Sarah Hunter, Natasha "Mo" Hunt, Emily Scarratt, Geordan Murphy, Scott Hamilton, Sam Harrison, Harry Ellis, Justine Lucas, Louis Deacon, Graham Rowntree, George Chuter, Maggie Alphonsi, Vicky Fleetwood, Matt Elliott, Rosemary Conley and Gary Street.
There are more to come over the coming months too and I am sure 2018 will be an exciting time for anyone involved with didi Rugby!