didi rugby are delighted to have been part of the working group that has led to the launch of the new Rugby Union (RFU) framework for England Rugby Early Years Guidance.
Every RFU-affiliated club in England will now receive a copy of the Guidance Framework.
The game's governing body are aware of the significance of building a pipeline of rugby players from a young age and have responded to the fact that clubs around the country are starting to show a keen interest in working with the 18 month to five years age group.
As a result, the RFU have been a developing practical guidance and information for clubs and providers. They invited didi rugby CEO Vicky Macqueen to be part of the working group that has contributed to the final document because didi rugby is already a well-respected nationwide provider for that age group.
Vicky was also invited to appear in the RFU's official video (above) to promote the guidance.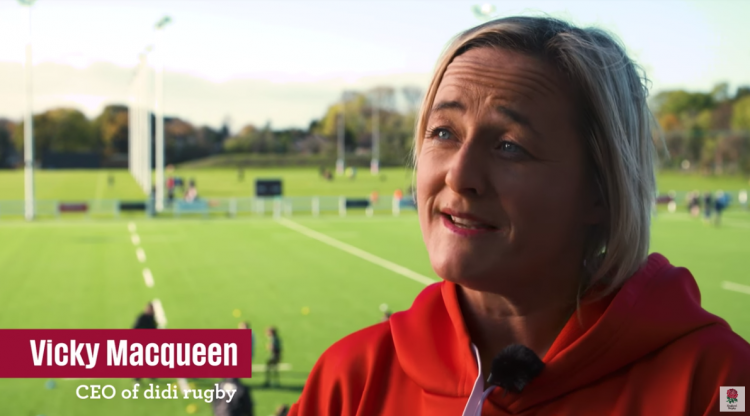 didi rugby runs classes for children aged 18 months to six years nationwide and has links in place with clubs all over the country to help provide a stream of able and confident youngsters for clubs' mini sections when they become too old for didi rugby.
Vicky said: "It's really important to make sure that children are healthy, active and confident and this is all about putting a framework in place to hopefully achieve this.
"It has been great to be able to add my experience and contribute to this framework. Now there is a guideline out there that clubs can access and come to people like us to ask if we can deliver it for them because they want it doing at a high standard.
"didi rugby classes develop skills like movement, agility, listening, communication and working with others and we have loved seeing the results of our sessions over the past three years.
"Ultimately, it's about making sure the children and their parents are all getting a great education, being passionate about physical activity and getting more people involved in the wonderful game of rugby."
The RFU's Kids First Development Manager Adam Cottingham hoped that providers who offer well-considered activities while displaying rugby's core values, will encourage children and their parents to develop a love for the sport.
"England Rugby Early Years Guidance was created to provide a club or provider with guidance and information on how to create safe, enjoyable age and stage-appropriate activity for children aged 18 months to five years.
"This piece of work was pulled together in conjunction with experts in the field to ensure that any guidance we created was usable and easily understood.
"England Rugby want any activity at this age group to be fun, first of all, and to foster a love for sport, physical activity and rugby union."
didi rugby are fully behind the England Rugby Early Years Guidance and are available to consult, offer advice, set-up and run classes within rugby clubs around the country.
For further information to see how we could work with your club, contact Vicky Macqueen on (07812) 082375 or email Vicky@didirugby.com.
To see how didi rugby's partnership with local clubs have improved their minis section, watch these videos with the chairman of Coventry RFC and Hinckley RFC.