Launching didi rugby in Gloucestershire and the South West region: Polly Pearce Brings a Lifetime of Rugby Experience to Young Athletes
Thornbury, October 2023 – Polly Pearce, a seasoned rugby enthusiast with a remarkable background in the sport, is set to introduce the exhilarating world of didi rugby to Gloucestershire and the South West region. This exciting initiative aims to provide children aged 18 months to 6 years with an early introduction to rugby, fostering a love for physical activity while instilling essential teamwork and confidence-building skills.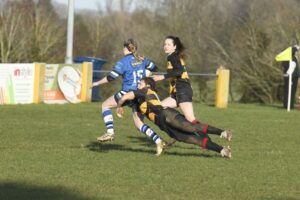 Polly's journey in rugby began at the tender age of 6 when she first stepped onto the field at her local club, Thornbury RFC. Her talent and dedication quickly led her to represent both Gloucestershire County and the South West region. A stint at Hartpury College saw her juggling a rigorous academic curriculum with participation in the Ladies Rugby Academy.
Post-Hartpury, Polly explored her musical talents at a dedicated music college while continuing to make her mark on the rugby field with Bristol Ladies. After a brief hiatus to focus on her burgeoning accountancy career and the establishment of her own accountancy business, Polly's deep-rooted passion for rugby drew her back to the sport. She began coaching the U7's at Thornbury RFC, nurturing young talent while also suiting up for the Thornbury Ladies team.
Polly's personal journey through rugby, from grassroots to county and regional representation, has instilled in her a profound appreciation for the sport's sense of community and camaraderie. This is precisely what motivates her to introduce young children to the enriching world of rugby through didi rugby.
Launching her didi rugby franchise in BS35, BS37, GL13, and GL12, Polly Pearce is uniquely positioned to blend her extensive rugby experience with her entrepreneurial spirit. With a foundation rooted in both sportsmanship and professional acumen, Polly is poised to offer children a unique and holistic introduction to the game.
The didi rugby program emphasizes age-appropriate, fun-filled activities that focus on motor skill development, teamwork, and confidence-building. Polly's infectious enthusiasm for the sport, coupled with the expert guidance and resources provided by the didi rugby team, ensures that children in the area are in for an exciting and enriching experience.
As the didi rugby journey kicks off parents can look forward to seeing their little ones thrive under Polly's expert guidance. For Polly Pearce, this endeavour is a chance to share her lifelong love for rugby and provide children with a foundation for a lifetime of physical activity and teamwork.