didi rugby is coming to Chester and interest in the upcoming classes is already growing at an incredible rate.
Having advertised launch party sessions for all three age groups just a couple of weeks ago, franchise owner Katie Heirene is considering putting on more classes because some of the scheduled ones are already full!
Sessions will get underway on Sunday 15 September at 9.00am and will take place at Chester Rugby Club after a partnership was formed between them and new didi rugby Chester owner Katie Heirene.
It's the latest partnership between a didi rugby franchise and a local rugby club with the goal of not only forming stronger links with the sport in the community – but to also provide a seamless pathway for children when they become too old for didi rugby at the age of 5 or 6 and move up into the club's minis section.
Katie says she can't wait to get the classes up and running and share the fun and success she has enjoyed since beginning her didi rugby journey in the Crewe and Nantwich area.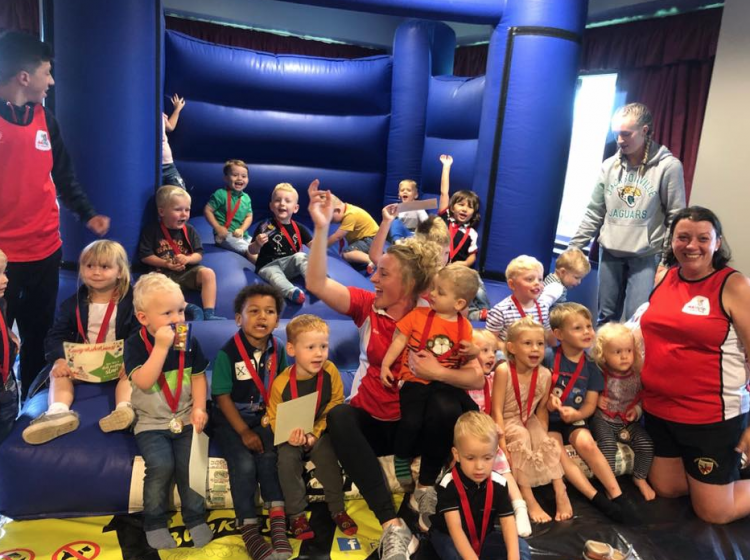 Fantastic club
"I am absolutely thrilled to be bringing didi rugby to Chester, especially given that we will be based at Chester Rugby Club itself," said Katie.
"It is a fantastic club with a thriving youth section that we are delighted to be able to add to by offering our classes for boys and girls from as young as 18 months.
"We launched in Crewe and Nantwich last September and have been overwhelmed with the response. Both the classes and schools programme have been hugely popular and we were even able to run our first Key Stage 1 rugby festival for local primary schools at Tarporley High School last May.
"didi rugby helps us to inspire more kids to get active and hopefully begin an interest in all sports. It is also a great way for parents to spend some quality time with their didi stars.
"Probably the most rewarding thing about didi rugby by far has been watching the confidence of our didi stars soar. After just 12 months, many of them are now participating in games and activities independently with their friends, even those in the Under 3s class!
Growing bond
"It really is an incredible transformation, the growing bond between class mates and their coaches has been a wonderful thing to watch, both for me and the parents. And seeing red, sweaty and smiley faces at the end of a didi rugby session is always a satisfying feeling. If we can achieve this, we know we have done our job!"
To book your child in for a free taster session at Chester Rugby Club, follow this link.
As well as the classes in Chester, Katie is also opening new lessons in Sandbach at the Sandbach Health and Fitness Centre.
Classes get underway from Sunday 8 September from 8.50am.
To book your child in for a free taster session, follow this link.