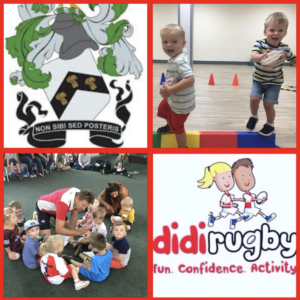 New didi rugby classes will be starting at Old Newtonians RFC in Leicester Forest East soon.
Steve Carter will be driving the sessions at what is a real family club whose junior section has grown at a rapid rate in recent years.
Old Newts (as they are better known locally) have an under-7s and 8s tag set-up, a thriving under-11s and a good micros set-up too.
"There has been no junior rugby at Old Newts for 25 years and we are growing our academy for 4 to 11-year-olds all the time," said Steve.
"We have had a lot of young children starting with us at the age of four or five and many of them have younger brothers or sisters with them so we wanted to get something set up so they could play too.
Feeding the academy
"didi rugby is perfect for that and it will hopefully go on to give us a pipeline of children feeding the academy.
"We are all looking forward to getting didi classes up and running. We are a real family club with a family feel to it and there is a great atmosphere here with lots of members of various families being involved in the club from seniors down to juniors."
Didi rugby founder and CEO Vicky Macqueen said: "Steve is very keen to get things up and running at Old Newtonians and we are delighted to have such a lovely club involved in hosting didi rugby classes.
"There is a really good family feel about Old Newts and I am sure it will be an ideal place to host didi classes here in Leicestershire."
Details about when they new classes will be held will be announced soon.
Watch more: VIDEO – Super Tommy Oliver is thriving at didi rugby despite suffering from Hypermobility Syndrome
Read more: Daughter Charlotte's love of rugby helps didi rugby Nottingham get ready for launch