Marie Chaston's route to didi rugby has taken the long way round.
And it's fair to say that she would not be involved in rugby at all were it not for her daughter, Charlotte (13).
"Charlotte has always loved rugby and was running around playing with the boys as a youngster. I used to stand on the sidelines and watch until one day, I was asked to help out coaching," said Marie. "So I did my courses and got involved.
"I quickly fell in love with the sport and the social side of it was just fantastic. I just wish I had played it myself when I was growing up too!"
When Charlotte reached the age of 12, regulations wouldn't allow her to play with the boys any more and so Marie set up a girls team at their club, Nottingham Moderns.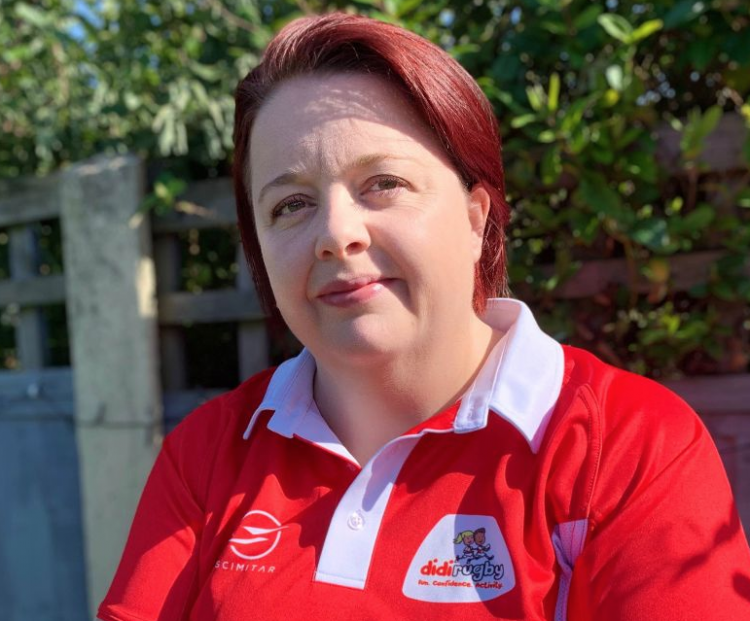 Coaching sessions
With half a team coming to regular coaching sessions, Marie met a fellow girls' coach at West Bridgford who was in the same boat and the two decided to join forces.
They created the South Notts Saphires and now have teams at under-13, 15 and 18 levels. The under-18s then go on to join the West Bridgford Ladies team when they get too old.
Marie's love of the sport made the prospect of joining didi rugby an exciting one when she saw an advert for new coaches and when she spoke to founder Vicky Macqueen about getting involved, didi rugby Nottingham was born and is due to launch at Nottingham Moderns RFC on Saturday 21 September.
"I am super excited to start my didi rugby journey," said Marie. "Children's development has been a passion of mine since 2010 when I started my child-minding business and to link that passion with my love for rugby is a dream come true.
"Having the knowledge of child development and understanding children alongside my experience of coaching and building our girls' section at Nottingham Moderns (South Notts Sapphires) will I hope, make didi rugby Nottingham a huge success.
Childcare
"I have been out of childcare for 2 years and I have missed it more than I ever thought I would. Working with children and rugby is who I am and it has taken this time away for me to realise what a huge part of me that is.
"I can't wait to get started, build the classes and ultimately get more children active, having fun and hopefully building a passion for the wonderful sport that is rugby."
Vicky Macqueen said she had been very impressed by Marie's passion and determination since they began talking about launching a franchise in Nottingham.
"It is great to have someone else with Early Years Foundation Stage experience involved in the business," she said. "Marie is also a string advocate for girls rugby and has already met many other franchise holders after coming to our Annual Presentation Day in July.
"We will be right behind her to help spread the didi values to Nottingham."
didi rugby Nottingham classes are due to begin at Nottingham Moderns RFC in Wilford on Saturday mornings from 9am to Midday and in Gotham.