didi rugby Coventry is wasting no time in moving on from a memorable launch at Coventry Rugby Club.
Due to widespread interest in the area, they have already added a new venue to their list of classes.
Adding to sessions already at Coventry Rugby Club, classes at Eastern Green Village Hall will take place for all three age groups and begin soon on Sunday mornings at 9.30am from June 24.
didi rugby Coventry's MD Sophie Gulliver said she has been delighted with the interest from children, parents and businesses in the area.
"Our launch was a great success and there is a real sporting buzz around the city at the moment," says Sophie.
"didi rugby is a way of bringing parents and children together through a sport which promotes such great values.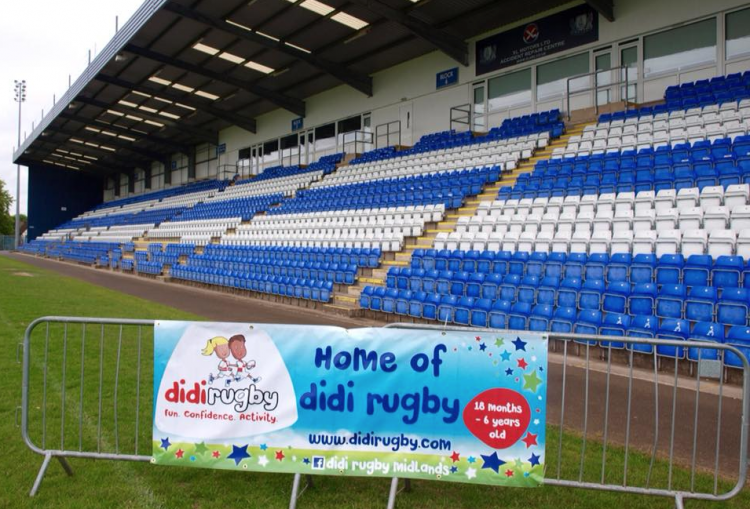 Fun and confidence
"All of the parents and children at our launch got fully involved and the compliments we have received following the session is a testament to Vicky Macqueen (didi owner) and what the business strives to achieve…spreading fun and confidence through activity-based sessions.
"This is just the beginning and we are excited to take didi rugby to the children of Coventry. We have received a lot of interest for long-term class sign-ups too so it looks like we will be seeing many of those faces again in the near future."
The franchise launch day was full of fun and colour as over 100 people made it to Coventry Rugby Club for free taster sessions and the chance to have pictures taken with some of the promotion-winning Coventry Rugby squad.
Not only that, but some of the squad got stuck in with the sessions too and tested the stretchy fabric on the obstacle course's tunnel!
The championship-winning trophy was also there to add some further shine to the day.
Everything ran smoothly
Vicky Macqueen said: "Following on from Gloucester's launch the week before, this was another tremendous day for didi rugby."
"The planning the Gulliver family had put in made sure everything ran smoothly and there were so many happy, smiling faces from those parents and children who took the time to visit us and get involved.
"Thanks to them and Coventry Rugby for hosting and a huge thanks to the Coventry players who took time out to help on the day too."