Treasured memories were made as didi rugby's second annual Presentation Day was blessed with hundreds of excited children, parents and grandparents.
The banqueting hall at Hinckley Rugby Club was full with didi stars from all around the Midlands area and some from even further afield. Each one was welcomed onto stage to receive a medal and certificate to mark their progress this year.
Presenting them with their medals were some of didi's wonderful ambassadors including Leicester Tigers duo Sam Harrison and Charlie Clare, Loughborough Lightning and England star Charlotte Pearce and author and broadcaster Rosemary Conley.
With didi rugby founder and CEO Vicky Macqueen leading proceedings, there were great photo opportunities for proud parents who have become part of the didi family along with their kids.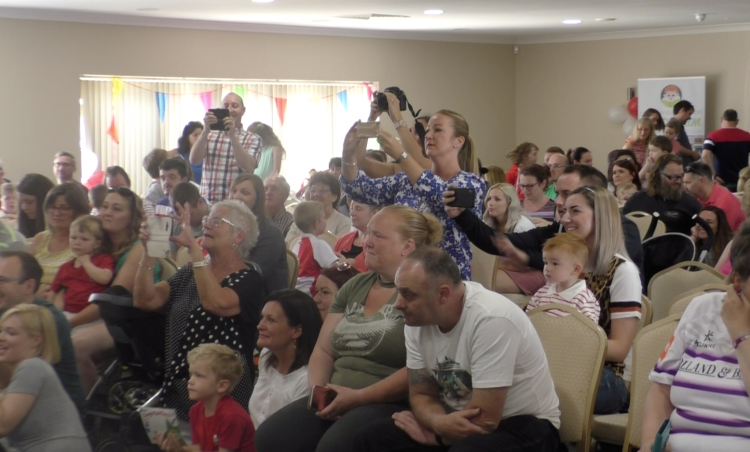 Thank you

Everything was laid on free of charge as a thank you from didi HQ to those children and adults who have made the last 12 months so special.
Ambassadors mixed with the crowd before and after the presentations signing autographs, ball, kit and copies of didi rugby's new children's book, Dougie Can Catch.
The book's illustrator Chris Embleton-Hall was also there to show off his other works and also encourage children to read and draw at a special colouring station which had black and white pages from the book for children to colour in.
There was loads more going on during the morning too with fantastic breakfasts served by Hinckley Rugby Club, a bouncy castle, a fun zone, merchandise stall and other stalls hosted by local businesses.
Coaches

Vicky said it was amazing to see so many people enjoying themselves.
"This is our big yearly thank-you to the people who make didi rugby so special – the children, their relatives, our franchise holders, coaches and the team at didi HQ," she said.
"It's a celebration of all that's good about what we do and to see the children on stage with our amazing ambassadors with big smiles on not only their face, but their parents too, was lovely to see.
"A massive thank-you to everyone who travelled down on the day and we are so grateful to our ambassadors for giving up their time to promote and support something they feel so strongly about.
Exercise and activity

"Here's to next year when we intend to make our Presentation Day even better!"
Rosemary Conley added: "Every year I come and see how much this event has grown so who knows where we will be in five years' time.
"To see these kiddies learning motor skills at such an early age is incredible and I just love how didi rugby is promoting the concept of exercise and activity in young children."