didi rugby's annual Presentation Day was enjoyed by hundreds of children and parents as the sun shone brightly on a memorable day at Hinckley Rugby Club.
Visitors came from up and down the country to enjoy a really special day which celebrated not only the achievements of the young didi stars involved but also the ever-growing family of coaches and franchise holders across the UK.
After visitors had enjoyed a hearty breakfast, they packed into the clubhouse for the award of medals and certificates. Any child who had attended a didi rugby class was invited and they were called out one by one for their special moment.
Coming up to the stage with proud parents, brothers and sisters, each child met founder Vicky Macqueen to be awarded their medal and certificate before shaking hands and having pictures taken with didi ambassadors: George Chuter, Charlotte Pearce, Rosemary Conley and Sam Harrison.
Afterwards, everybody piled out onto the pitch to run around with didi balls and have fun on the bouncy castle.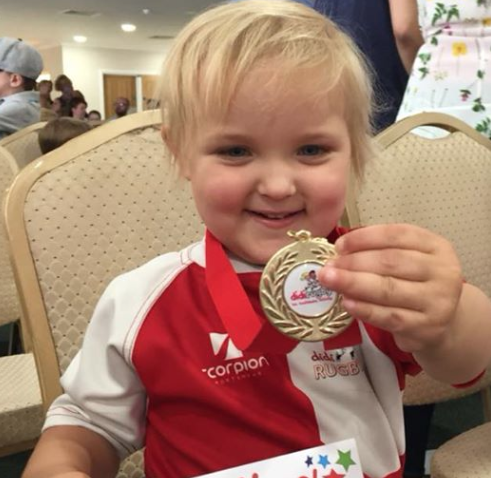 Family feel
"It was a fantastic day which had a real family feel to it," said Vicky. "We wanted to make everyone welcome and lay on a day which was our way of saying thank you to the children and parents who make didi rugby such a great experience for us all.
"There was an incredible turn out and I want to thank every one who drove miles to come and join in. Thankfully, we were blessed with some great weather too and see the smiles on the faces of the children as they came up for their medals made it a special day for all of us.
"A big thank you to our didi ambassadors too. Rosemary Conley, George Chuter, Sam Harrison and Charlotte Pearce gave up their time on a Sunday morning to support us and they really added to the occasion."
Leicester Tigers scrum-half Sam Harrison is from Hinckley so didn't have to travel far for what he said was a fantastic event.
"Two of my kids are both going to the didi camps during the summer and they love it," he said.
"Vicky has the enthusiasm and started this business from scratch. Days like this prove that it is credit to her that it is where it is now. It's getting bigger and bigger and that's good to see."