Biggin Hill, UK – The Darwin Leisure Centre in Biggin Hill is set to become a hub of youthful energy and sporting enthusiasm as it hosts it's first ever didi rugby classes, led by none other than the esteemed Maxine Edwards, on January 7, 2023. This marks a significant expansion of didi rugby's presence in the area, offering young children a unique opportunity to engage in this dynamic sport.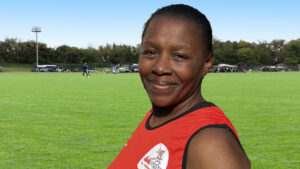 Maxine Edwards, a name synonymous with rugby excellence, brings over 25 years of experience in the sport to these classes. Her illustrious career includes playing for notable clubs such as Bromley, Blackheath, and Saracens, and she has also graced the rugby field as an England player for more than 15 years. Maxine's dedication to the sport was further recognized when she captained the England rugby team for two years.
Away from the rugby field, Maxine has been an influential figure in education, with over 18 years of teaching experience in a secondary school setting. This combination of sporting expertise and educational insight makes her an ideal mentor for young aspiring athletes.
The launch of didi rugby classes at Darwin Leisure Centre is not just a testament to Maxine's commitment to the sport but also reflects her desire to give back to the community. These classes are designed to introduce children to the fundamentals of rugby in a fun, safe, and inclusive environment. The program focuses on developing skills such as teamwork, respect, and discipline, which are invaluable both on and off the pitch.
Maxine's role as the franchise owner for the Bromley area and her impressive credentials are set to inspire a new generation of rugby enthusiasts. Her approach is expected to resonate particularly well with young learners, fostering a confident and supportive learning environment.
Parents and children in Biggin Hill and surrounding areas are eagerly anticipating the launch of these classes. With Maxine at the helm, the Darwin Leisure Centre is poised to become a vibrant center for youth rugby, shaping the future of the sport in the region.
For more information and to register for the classes, click here. This initiative promises to be the beginning of an exciting new chapter in Biggin Hill's sporting narrative, under the expert guidance of Maxine Edwards.
WATCH:

Change your career for the BETTER!