Despite snow and freezing temperatures, the re-launch of didi Rugby's Loughborough classes soon got warmed up with new franchise owners Caroline and Terry Percival at the helm.
As well as a fantastic response from local families, the President of Loughborough Rugby Club arrived to see what was going on and to encourage children into the sport.
At the end of the sessions, he was so impressed that he has given his full support to didi Rugby in Loughbourough.
Caroline said she was delighted by the success of their big day. "We were amazed by the response from the local community building up to the event," she said. "It is heartwarming to see that so many people share our passion for rugby and its values and also want to share these with their children."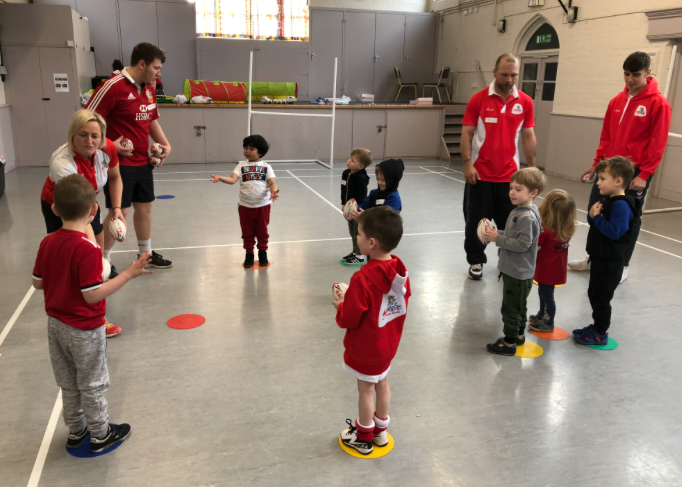 Engaged with activities
There were three classes held at Rosebery Community Centre in Loughborough, Leicestershire on Saturday. Children aged from 18 months through to six years were split into minis 9-9.40, juniors 9.40-10.20 and seniors 10.20-11.
The children in all classes were really engaged with the activities but the 'What's the time Mr. Wolf?' game was a particular hit, with squeals of delight from the children and laughter from the parents ringing out around the hall.
There were even requests for the game in next week's classes from some of the children.
Huge smile on their faces
Everyone went home with a certificate, medal and a didi Rugby cupcake specially baked for the occasion. Most importantly of all, however, they left with a huge smile on their faces.
"With the minis session full and the other two sessions over half full the numbers attending the relaunch exceeded our expectations and ensured Vicky Macqueen and the team could demonstrate didi Rugby at its best," added Caroline.
"The feedback we have received from parents and children has been outstanding. With such strong positive endorsements, we know we will go from strength to strength."
Numbers for Saturday morning calsses are already so good that Caroline is now looking at venues for after-school classes in the area too.