During a time of national division, I am sure we can all come together and agree that life tends to fly by at a rapid rate.
We all do our best to get through from day to day – and then move on to the next one.
In an ideal world, there would be time to reflect and look back to see what we have done right and what we have done wrong. The good bits, we can try again…the bad bits, we can learn from.
As busy people, that time for reflection never seems to arrive, however.
So when my good friend Vicky Cropp asked me to go to India with her to spend a few days in a yoga retreat, it sounded amazing, but totally unrealistic.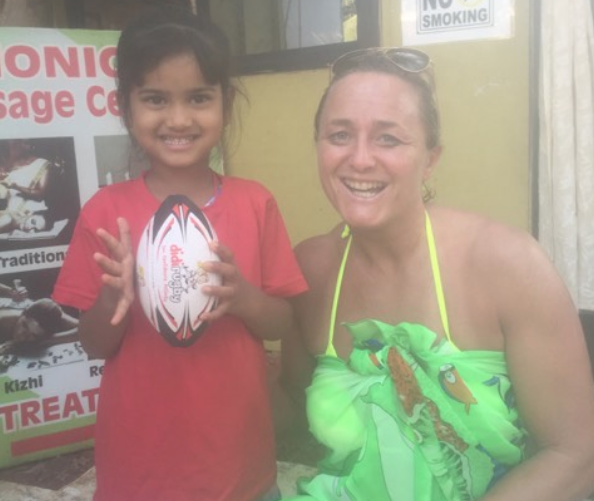 Extended family
The support I received from my husband and extended family though was amazing and they encouraged me to make the trip for all the reasons I have just mentioned.
Vicky and I have been on a long journey together since we both left Redmoor Academy school in Hinckley, Leicestershire in July 2016 to focus on our respective businesses.
I set up didi rugby and she launched The Yoga Loft. Two-and-a-half years down the line and we are both really pleased with our progress.
Being in the middle of spreading didi rugby's values every day has made me a good judge of that business' progress and I have also been close to The Yoga Loft with two visits a week as part of my routine.
I have found a huge mental benefit of spending a short time to myself doing yoga. That headspace allows me to gather my thoughts, reflect and look forward. As well as the physical and mental health benefits, it also allows me the chance to do some physical activity with my mum who can 'crow pose' and stand on her head at the age of 72!
Space to reflect
India was amazing and mine and Vicky's time in Sampoorna, Goa gave us that space to reflect on our progress as individuals and the time to think clearly on our future progress.
It gave me some time to think about the bigger picture for didi rugby, where are we going, where are we growing and how can we have the biggest positive impact on little ones' lives.
I managed to take some kit and balls over with me and thoroughly enjoyed giving out balls and clothing to the local children while we were out there. Many of them were living in poverty but still had the biggest smiles of their faces and were so grateful to receive a didi ball to play with and a didi tee-shirt to wear. Some of their skills were fabulous too!
I have re-set, reflected and taken time to see the bigger picture and show gratitude for everything I have. I am extremely grateful for the opportunity and can't wait to see some of my plans for didi rugby come to fruition in the near future.
If – and I know that is a big 'if' from personal experience – you can find some time to reflect and take stock, it really is worth doing.