didi rugby founder and CEO Vicky Macqueen has urged rugby clubs up and down the country to get in contact if they are seeking help and guidance implementing the Rugby Union's (RFU) new Early Years Framework Guidelines.
Because of the success of didi rugby with the age group in question, Vicky was invited to be part of the working group which helped the game's governing body devise a practical framework to help clubs attract and develop children from 18 months to five years of age.
Months in the making, those guidelines have now been formally released to all RFU-affiliated clubs in England giving them a clear structure on how to encourage a new generation of young players.
didi rugby's franchises have been building links with clubs across the country for the last 18 months and been putting the building blocks in place for clubs like Vicky's own home town, Hinckley RFC to have a booming minis section with dozens of children coming through the didi rugby programme to join the club's minis section.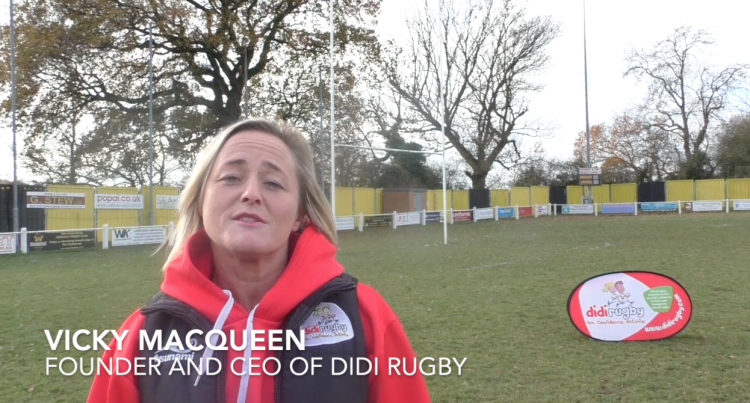 didi rugby has a vast amount of experience in setting up didi programmes at clubs and that is why the RFU asked Vicky to share her knowledge and to help them devise the right way forward for an ever-growing age group.
Now clubs have the official RFU document to base their structure on, didi rugby's team of franchisees and dedicated coaches will be ready to help any interested parties set-up a programme, attract new youngsters and parents to the club and develop a set-up to provide a conveyer belt of keen, excited and engaged kids with a rugby ball in their hands.
Early Years Framework
The former England's Women's international said: "We are thrilled to be working with the RFU on their Early Years Framework Guidelines for rugby. We were invited to get involved in the process and we were absolutely delighted to do that.
"It's so important that all children are physically active from an early age. What we do at didi rugby is take children from 18 months up to six years of age and we incorporate all the values of the RFU in a multi-skills session environment where children become more confident, active and healthy.
We are thrilled to be a part of this process of getting the RFU's Early Years Framework out to the grass roots in England and so, if you are a rugby club who would like to see what we do and find out how we could implement the RFU's guidelines at your venue, please get in touch and we can discuss your options."