didi rugby stars took centre stage at Wasps Rugby's Fans Village before a Gallagher Premiership game at the Ricoh Arena.
Following an invite from the Wasps Community team, founder Vicky Macqueen and a number of coaches from didi rugby franchises around the country demonstrated the classes that thousands of children around the country are now enjoying.
Young didi members had great fun showing off their skills and confidence in front of a good crowd at the 'Wasps Nest'.
Some didi stars were interviewed and shown on big screens around the Fans Village.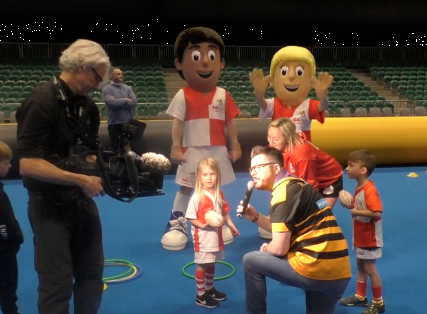 Then, children and their parents were able to go through and watch the game between Wasps Rugby and Newcastle Falcons.
Parents made comments like: "Louie loved the didi rugby session and his first ever rugby match. Thank you for the experience."
"We had an amazing time"
And: "We had an amazing time, having our rugby class at the club before we went outside to watch Wasps play their match. My 4 year old twins enjoyed shouting and cheering on the team. Thank you didi rugby."
It was the second consecutive year that didi rugby has been invited to appear at Wasps Fans Village and with classes held in nearby cities, towns and villages like Coventry, Kenilworth, Market Bosworth, Lichfield and Nuneaton, it was no surprise there was such a big turn out.
With links at many of the country's leading Gallagher Premiership clubs, a similar experience could be coming to other areas soon.
didi rugby founder and CEO Vicky Macqueen thanked everyone who came to make it such a memorable day.
"It was great to be able to showcase just what didi rugby can offer on such a big stage. The children, parents, coaches and frnachise owners had a blast and I want to thank them all for coming."