A teenage didi rugby coach has travelled to Kenya armed with a bulging bag full of didi kit to play with children she meets on a volunteering mission.
Izzie Mackinder, who has just turned 16, has been a didi coach at Burbage in Leicestershire under the watchful eye of owner Vicky Macqueen for almost a year.
She has grown in confidence and ability during that time and is now going to put that to the test as she embarks on a month-long organised charity work trip to Africa with Camps International.
"I am going to Kenya for 27 days to do charity work, help them to make a better way of life and introduce them to ways of making better use of their resources," said Izzie.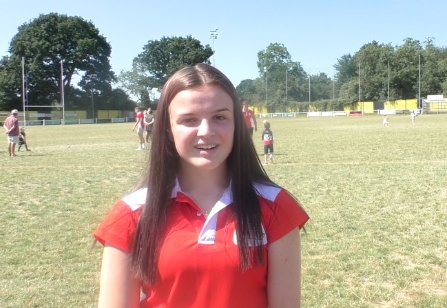 Build primary schools
"Hopefully our work will give them the chance to land better jobs and have a more sustainable income.
"We will be helping to build primary schools and teaching them English and basic maths. For some of them, they won't have had that education before and we can try and bring that to them for the month that we are there. We will be based near three different places.
"There is also the opportunity to take over some didi rugby kit so I can get the children playing rugby. They are fans of rugby in Kenya and they already have some very good Sevens side.
"I am hoping to get the young kids involved from a young age because they have not necessarily had that chance before."
"I raised the money for the trip myself to go with Camps International.
Grow in confidence
"Vicky has encouraged me to take as much as I can carry in my bag! I have a lot of balls, tee-shirts, jumpers and shorts, stickers and certificates."
Vicky Macqueen said: "I was Izzie's High School PE teacher at Redmoor Academy (in Hinckley). I am so proud of the developments she has made as a rugby player, a didi rugby coach of little ones, and as a young adult.
"I have seen her grow in confidence over the last year of didi rugby coaching, communicating and teaching little ones but also her communication skills with parents and carers have grown too.
"To see her take this opportunity is awesome she will grow and develop as a person. I am also very excited to get some didi rugby balls and kit out there to the children of Kenya."