Coventry Rugby chairman Jon Sharp says he is delighted to partner with didi rugby and hopes some of the youngsters involved in classes will go on to represent the club in later life.
The formal partnership will see the city's Championship team, who play at Butts Park Arena, throw their continued support behind the Gulliver family, franchise owners of didi rugby Coventry.
didi classes are held at Coventry Rugby Club every Saturday morning.
"We are very proud to be partnering with didi rugby Coventry," said Jon.
"We are very keen on our work in the community with young people and are pleased that kids are getting fit, involved with sport and playing the ultimate team sport of rugby.
"The game of rugby breeds great values like team work and respect, passion and enjoyment and we think didi rugby is a great place for the kids to be.
"Hopefully they will come through our system and ultimately play for Coventry!"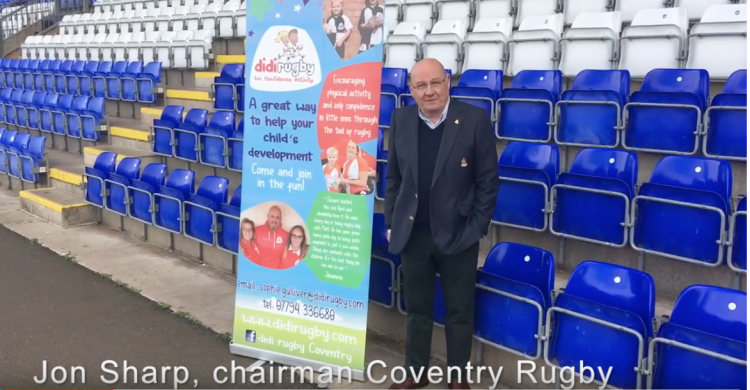 Pathway for kids
The partnership is the latest one to be launched by didi rugby franchises as they attempt to create a pathway for their didi kids to progress to tag rugby when they become too old for didi sessions.
didi rugby Midlands' link with Hinckley RFC has already proved to be very fruitful with upwards of 40 children moving on from didi's senior age group into the club's minis.
didi rugby Coventry's head coach Sophie Gulliver said the club was already very close to the family's heart.
"Coventry Rugby Club holds a special place in our heart as a family and all of us, for some reason or another, have spent most our weekends there," she said.
Playing in mud!
"Some were playing rugby or working, my mum Carol supporting both son and husband and me supporting as the daughter and sister. When I wasn't playing rugby, I could be found mostly playing in mud and waiting for the best moment of the whole match for a kid which was running onto the pitch at the end of the game.
"Every other Saturday, I now watch my boys do it at what feels like a second home to us and that's why rugby is different. It's not just a game, it's a game that builds families, friends and most of all memories.
"I couldn't be prouder to be part of a business that helps children and families build those types of memories.
"This is more than a partnership with Coventry Rugby, it's a meaningful relationship with big people, aka adults who have a passion to let children have what we have enjoyed through rugby."