For the first time since confirming their partnership, didi rugby and the Burford Academy will join forces for a camp during the half-term break at Reading RFC.
On Wednesday 24 October, former England internationals Vicky Macqueen (owner of didi rugby) and Rachael Burford will be putting on a rugby camp for children aged between 18 months and 18 years of age.
didi rugby Reading will be running sessions for 18 months to six-year-olds from 10am to Midday, while Rachael and her team of experienced coaches will take 7 to 18-year-old girls from 9.30am until 3pm.
The aim of the camp is a driving force of both organisations and that is to get more young people physically active while learning the skills and enjoying the values of rugby.
Vicky said didi's links with clubs around the country provide the perfect platform for children to play tag rugby when they are too old for didi classes.
And that the partnership with the Burford Academy would provide another high-class coaching option for didi graduates to continue their rugby journey.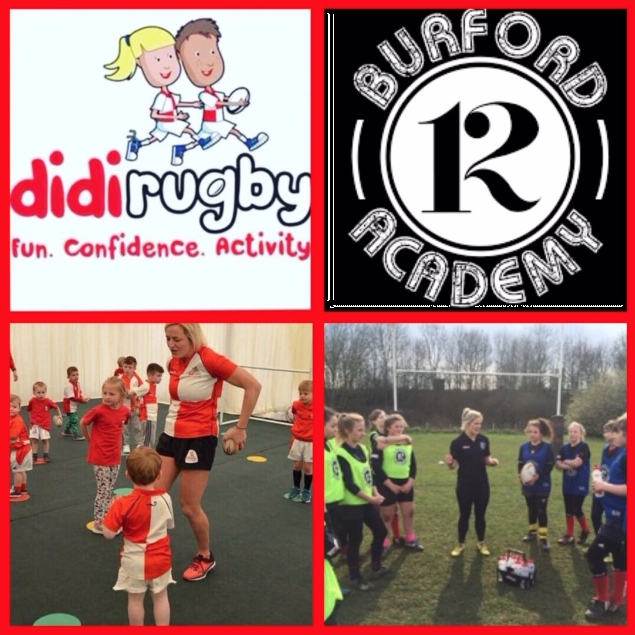 Role models
"We are linking with the Burford Academy to ensure that girls get a chance to learn from their amazing coaches and role models," added Vicky.
"We firmly believe that encouraging children to get active at a young age will not only help them stay healthy but will increase their confidence and self-esteem as well as help interaction and engagement with other children.
"didi rugby is a great stepping stone into team sports further down the line because we teach the values of respect, sharing and team spirit.
"Parents and carers are a big part of what we do and we encourage their involvement during class sessions at the right time. We are not strict. We want didi kids to be happy and comfortable in our 40-minute classes."
didi rugby Reading head coach Craig Hunter added: "We are delighted to be linking up with Reading Rugby Club and the Burford Academy to bring this partnership together on one place."
Rachael said she believed it would be an exciting partnership and was looking forward to seeing it grow.
Positive effects
"We know the positive effects that rugby has on young people, providing a place where kids as young as 18 months to six years can join didi rugby to be active and have fun whilst learning fundamental development skills," she added.
"Now with the partnership we have put in place, young girls can continue from the age of 7 to 18 with the Burford Academy. It's a great pathway and connection to keep kids involved and actively engaged in rugby."
"I'm excited to invite our current members to try out a free didi rugby taster session at Reading RFC for any kids aged 18 months to six years of age."
To book a free taster session with didi rugby, email Craig Hunter at craig.hunter@didirugby.com. The sessions will run as follows:
10.00-10.40: 18 months to 3 years
10.40-11.20: 3 years to 4 years
11.20-Midday: 4 years to 6 years