didi rugby founder and CEO Vicky Macqueen has joined forces with Switch the Play and former England and Leicester Tigers centre, Leon Lloyd, to try and help elite sports men and women learn from her experiences of life after a career in sport.
Switch The Play is a social enterprise dedicated to helping athletes perform better and prepare for their next phase through developing a life outside of the sporting field.
Switch the Play is underpinned by a 'pracademic' approach, using those who have experienced a career in sport to deliver their message. CEO Leon Lloyd was therefore delighted to welcome Vicky to the Switch the Play team as an associate, to deliver educational masterclasses to elite and aspiring athletes.
The former England Women's international with 34 caps left the sporting arena that had served her so well in 2009 and had a family before launching didi rugby and going on to be presented with a British Empire Medal (BEM) for her services to women's rugby.
Leon, meanwhile, had a stellar professional rugby career with Tigers and Gloucester before retiring and learning some valuable lessons about how tough the transition is, into what athletes often describe as 'the real world'. His book: 'Life After Sport' tells of that emotional journey.
"Switch The Play helps people put plans in place to make the most of themselves," said Leon. "It is never too early to start planning for the nextstage of your life. At Switch the Play, we encourage athletes to see developing themselves alongside their sport as an extension of Plan A, rather than as a Plan B. This not only helps them once they transition but also has a positive impact on their sporting performances.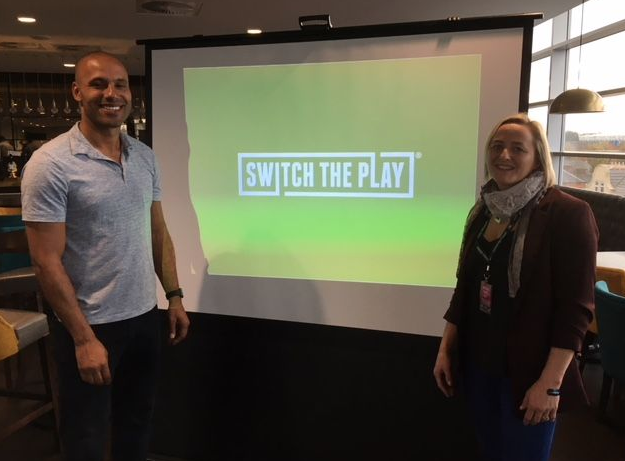 Plan for transition

"You have to plan for your transition. People won't give you a job because you can score tries, goals or run fast."
"I am passionate about helping others learn from my mistakes and we are focused on offering guidance to people while they are still competing to help them better transition to their life afterwards.
"It's important for athletes to use their sport now. Don't wait for other people to come to you. Go to them and be pro-active."
Vicky said she was looking forward to getting involved: "Switch The Play hopes to make a positive difference to the lives of athletes and it will be great to play a part in that," she said.
​
"As I have found over the last couple of years while developing didi rugby, there are plenty of lessons to be learned in the business world but also plenty of people and organisations who will support you and help you to succeed.
"I am really looking forward to telling my experiences, good and bad, to the next group of athletes who are ready to take a step that may seem scary and challenging but is also exciting and full of opportunities."