didi rugby has launched classes in Italy.
Following a trip to Colorno Rugby in May, which saw founder and CEO Vicky Macqueen host a didi rugby session to excited youngsters, regular classes will begin in the next few weeks.
A partnership has been put in place with Colorno Rugby and the club's English director of rugby, Nick Scott will be driving didi's growth in and around the local with support from an experienced and committed staff.
Colorno is situated near Parma in the north of the country – a real hotbed for the sport – and is a club which shares the same values that didi rugby has been built on.
Vicky said she was absolutely delighted to be taking the values of fun, confidence and activity to a country which has beautiful scenery and passionate people.
"It is tremendously exciting to be launching didi rugby in another country – especially one that is as passionate for the game as Italy," she added.
"It was a pleasure to meet club staff and parents at Colorno on our visit and great to see the energy provided by the local children who took part in our demo session.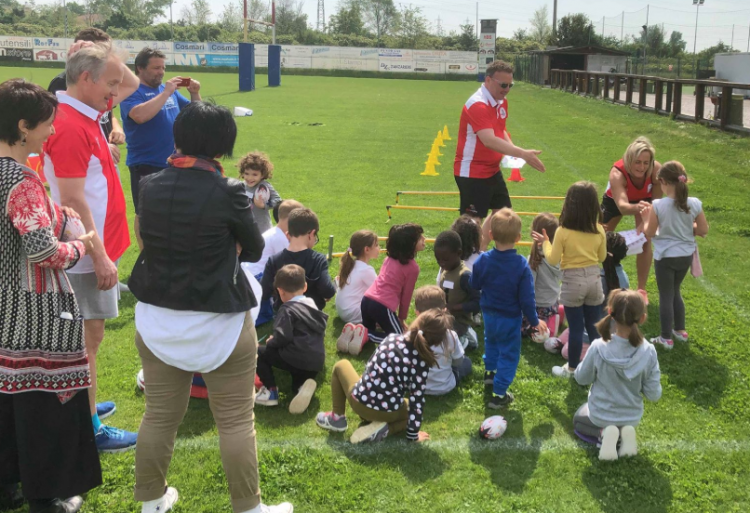 Community
"I have known Nick Scott for a while because he was involved in teaching my Level 4 RFU Coaching course so I know what a great job he will do spreading the word of didi rugby.
"And having enjoyed such a lovely visit to Colorno, I also know how driven and committed the other members of the club are make didi rugby a success at their thriving venue, which is a real focal point for the community."
Nick worked for the Rugby Union as their National Coach Development Manager before going to Colorno as their director of rugby so he knows a thing or two about putting development schemes in place!
"Rugby Colorno is a club built on values and community," said Nick. "Every one of the club's values is important, but this being Italy, family is really important.
"We see didi rugby as an very valuable addition to the offer we give to our community.
Love of exercise
"Giving children a love of exercise at an early age is essential to them living a healthy lifestyle; but didi rugby offers so much more than just that.
"We see didi rugby in Colorno offering young people the opportunity to develop social and personal skills as well as physical skills – and just as important, spend quality time with their parents.
"With the club acting as a social hub, taking didi rugby to the surrounding communities will see our game gain even more friends in Italy.
"With training from didi rugby, our coaches will use rugby's activities and values to grow the game – but also be a positive influence in the community."
"We have a philosophy here in Rugby Colorno where we count smiles rather than scores. didi rugby is perfectly aligned with this and we look forward to a long partnership."