It was a wonderful experience spreading the values and fun of didi rugby with like-minded people in Italy the other week.
We had been invited to Colorno RFC, near Parma and not only enjoyed some amazing hospitality but also met some children, parents and officials of the club who all shared didi's values of trying to get youngsters engaged in the fun and friendship our sport provides.
There was a really strong community feel to the place and, I was struck soon after arriving by the fact that both parents and children were clearly heavily involved in the club's culture.
We were invited over to Colorno by Nick Scott. The former RFU National Coach Development Manager is now the director of rugby at the Italian side and he is also the man that has taken me through my Level 4 coaching qualification so I know him very well.
Soon after arriving, we set up on our didi kit on their pitch and children aged between three and six came down from the local school for a didi rugby taster session.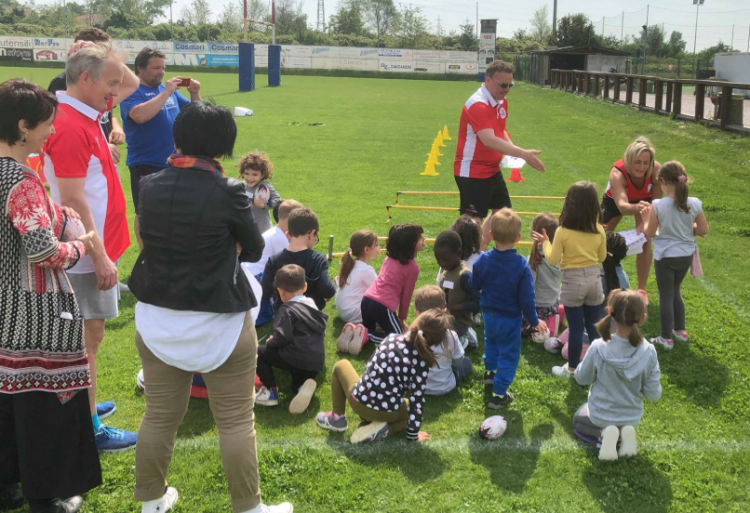 Excited children
I have to admit that I was a bit nervous at first because of the language barrier. But didi rugby is so visual and the fact that I was English and they were Italian created no problems whatsoever.
The children were also very excited to see us and hold a rugby ball of their own – and they were even happier when we told them they could keep their rugby ball too at the end of the day.
They were great kids and all of the staff at the club were brilliant too. One of their assistant coaches joined in.
Our session went on for over an hour and it would have gone on for longer if the kids had their way! They never wanted to stop.
Italian hospitality
When the children had returned home with their parents, we were able to enjoy some fantastic Italian hospitality before returning back to the UK.
Colorno has the their vision and values proudly displayed on a wall in the clubhouse for everyone to see. They are: honesty, confidence, trust and sincerity.
It's no surprise that didi rugby and Colorno RFC are looking forward to a long relationship together.