The first event of the newly-formed partnership between didi rugby and the Burford Academy has taken place at Reading RFC.
Former England team mates Vicky Macqueen and Rachael Burford have joined forces to provide a day of fun, games and activities for children aged between 18 months and 18 years of age.
Vicky's didi rugby operates franchises across the country, while Rachael runs the coaching academies for girls aged between 8 and 18 alongside her commitments in the professional game.
The first one of many joint ventures took place at one of didi rugby Reading's partner clubs, Reading RFC.
"It's all about collaboration and bringing great people together to work side by side," said Vicky.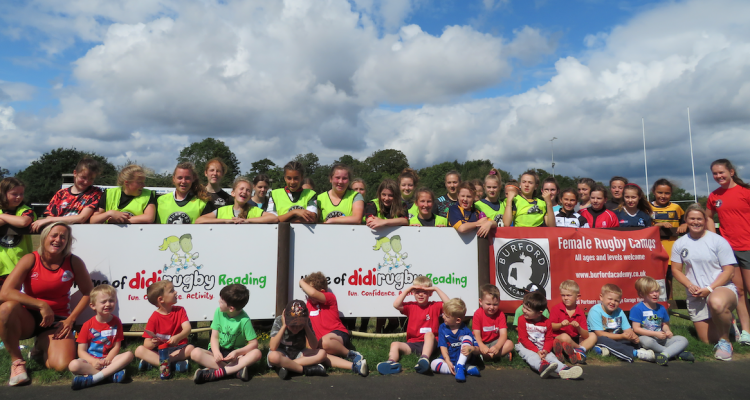 Physical activity

"We are all spreading the gospel of rugby and physical activity and it's great to see young people growing in confidence by playing the game.
It was great to see the didis having fun with their coaches while the older girls were working so well with their role models, Rachael Burford and (England scrum-half) Leanne Riley.
"Rachael and I played together and since I retired, I have watched her progress. Now she is a business woman too promoting the sport and I hope this will be a long partnership that both of us enjoy.
"This particular partnership creates a nice pathway specifically for girls. Anything we can do to grow the game for girls is great to see."
Rachael said the group at Reading at been split into two different working age groups: "We want them to get to know each other and so we start the day with an ice-breaking session to get them laughing and interacting," she said.
"Our camps are for girls from all over the area and are from all different clubs. Some have been playing for half a year and some for eight years. We take all ages from post didi classes up to under-18s.
Confidence
"Every time I see the girls growing in confidence and saying they are having a good day, that really is fulfilment and I always walk away buzzing."
Rachael's England Women's colleague Leanne Riley, fresh from her country's summer Tests in America, added: "These sort of opportunities were few an far between when I was growing up. It's nice to get involved with Rachael, see her way of working and it has been a really good session.
"I come from a big family with little ones running around so to see didi rugby in action is great too. It's a great concept and it's nice to see them running around with a rugby ball in their hand, having a lot of fun."
didi rugby Reading's Donna Clark played a huge part in organising the day.
"Seeing so may happy, smiling faces having fun and running around is great to see," she said. "Our growth as didi rugby Reading has gone nuts in the last few weeks!
Clear pathway

"We now have Saturday and Sunday classes and we are in schools five days a week in lots of locations across Berkshire.
"Our children feed through to clubs like Reading and there is a clear pathway for them when they are too old for didi rugby.
"Coming through the ranks of didi rugby gives them the chance to move into club rugby which is a win/win situation for us and the clubs we partner with."