Excited children from four schools in Cheshire had a blast when didi rugby Crewe & Nantwich held its first schools festival.
Tarporley High School was the venue for an afternoon of fun and activity based around the core values of didi rugby, which is now growing at a rapid rate in the north west of England.
Schools taking part in the event were: Tarvin Primary, Bunbury Aldersey Primary, Eaton Primary and Delamere Primary.
Katie Heirene, the owner of the didi rugby franchise in Crewe & Nantwich said it was a pleasure to see so many Key Stage 1 children playing rugby-based games and enjoying themselves.
"The event took place after school and all of the children taking part were brought to Tarporley High School by their parents, who stayed to watch and support their kids," said Katie.
"We split them into groups and did warm-ups, evasion games, obstacle courses and had a skills zone to teach things like catching and handling.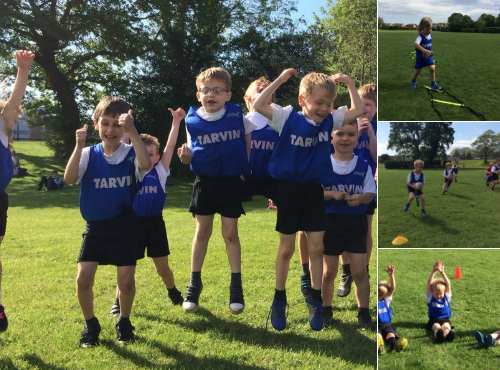 Core values

"At the end, we gave out some awards out for traits that are core values of both the Rugby Union (RFU) and didi rugby, like sportsmanship, team work and respect.
"The teachers and the parents that were there were tremendously supportive too which helped to make the festival such a success.
"It was great that KS1 pupils were able to come to an event off-site and play a sport which was new to many of them and one which they seemed to really enjoy playing. Not only was it good fun for them, but it will be good for them to get used to playing sport tournaments as they get older.
"I was grateful for the support of five volunteers from the high school, who were all members of the rugby team, and a student teacher during the day.
"And the event wouldn't have been possible without our partnership with the Sandstone Schools Partnership and their schools sports co-ordinator, Kaeti Breward. The schools which took part were a real credit too."
The day was the ideal warm-up to a much bigger one that will take place after the summer holidays.
The didi rugby Crewe & Nantwich Festival will take place in school time on Tuesday 24 September and will involve over 200 children from over 25 schools across two days.
Are you involved with a school, pre-school or nursery who would like to benefit from a free didi rugby taster session in your setting? Click here and visit our website to find out how to book one.