The launch of didi rugby Stone and Stafford over the next few weeks has caused so much interest that extra classes are having to be put on to satisfy demand.
New franchise owners Mollie Latham and Ros Wiggins say they have been 'blown away' by the amount of parents and children who have signed up to attend what looks like being two memorable opening days.
didi rugby Stafford will go live this Saturday (26th) at Walton High School, The Rise, Stafford, ST17 0LJ, while next weekend (Sunday 3rd February) sees the launch of didi rugby Stone at Alleynes Sports Centre, Oulton Road, Stone, ST15 8DR.
Places are still open but they are becoming limited and that is even with extra sessions having been put on to make sure everyone who is interested gets a free taste of what didi rugby is all about.
With the aim of getting young children active and learning new skills and confidence while having fun in a safe environment, sessions are held in three age groups and they are 18 months to 3 years; 3 years to 4 years; and 4 years to 6 six years of age.
"It has been a crazy few weeks," said Mollie. "The amount of people that have contacted us and asked questions trying to find out more about didi rugby has been overwhelming and humbling too.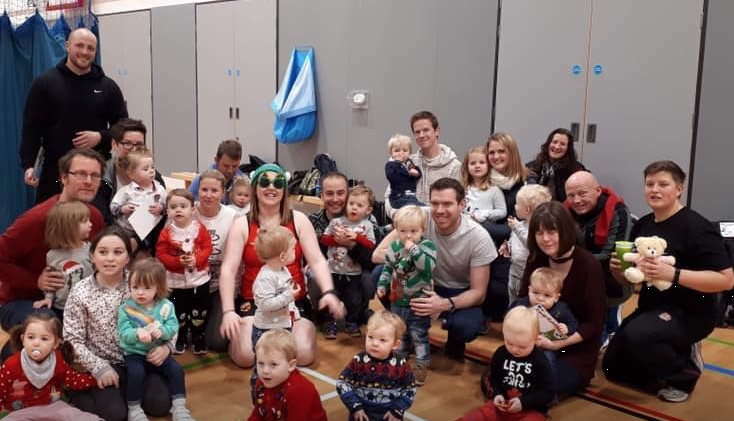 Over 100 children
"We have already got over 100 children across the two launches signed up to come and meet us and have some fun – so we are looking forward to meeting them and their parents and carers.
"There has been lots of interest from the local community and they have been really supportive of us too.
"We got to the stage where we were full for certain age groups and were putting people on a waiting list. But we didn't want anyone to miss out so we decided to just put on some more sessions so everyone can join in.
"It has been going so well that three sets of parents have said they want to come to both launches! My phone has not stop pinging since we announced the launch dates. It's just been madness!"
Mollie has been invited onto Stafford FM Radio, while Ros was asked to go into BBC Radio Stoke and tell their listeners all about didi rugby.
Building links
Ros and Mollie have also busy building links with Stafford RFC too and that could develop into a more formal partnership soon.
didi rugby founder and CEO Vicky Macqueen will also be at Saturday's launch, along with didi rugby's fun-loving mascots, Dougie and Daisy.
Vicky said: "Mollie and Ros are well known in the area and have already been coaching didi rugby classes in Crewe and Nantwich and I have been delighted by how well their plans have been received by the local community.
"They have both worked very hard to get the word out there and the response has been simply incredible. I can't wait to help them launch in both Stafford and Stone and am looking forward to getting lots of new didi stars active and having fun."
If you would like your son or daughter to come for a free taster session at the launches of Stafford or Stone, please click on the following links.
Register for a place at the didi rugby Stafford launch (Jan 26)