didi rugby Gloucestershire is expanding to Highnam where it will launch a high-profile launch party in the New Year.
If you live in the area and would like your child to get a taste of some of the fun that kids are enjoying all over the country, then keep Saturday 12 January spare and come to the Highnam Community Centre on Newent Road for a free taster session.
didi rugby ambassadors will be joining in and will be free to have photos taken with visitors, while mascots Dougie and Daisy will be up for some fun too.
Regular classes will then start at the venue every Saturday from 19 January for all of didi rugby's three age groups between 9am and 11am.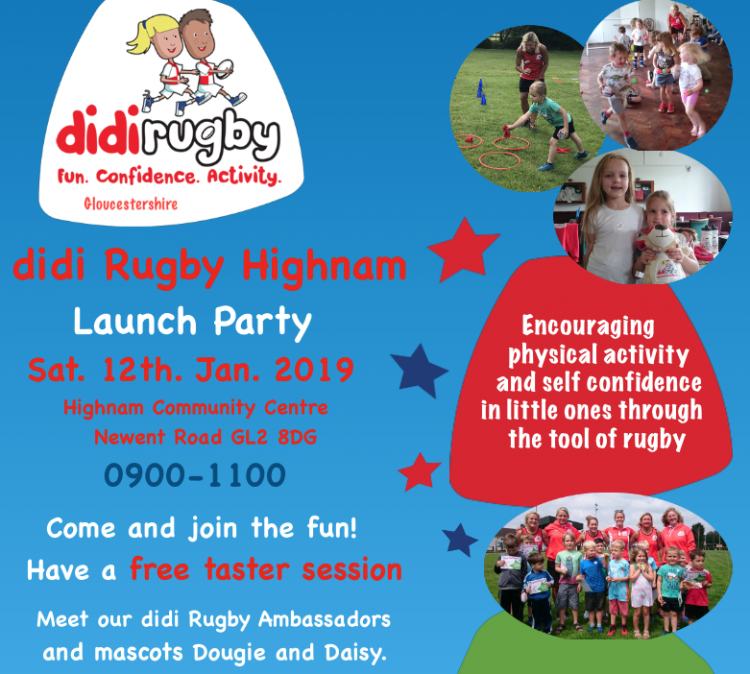 Building momentum
The sessions will be run by coach Keith Smith, a retired police officer who was keen to get involved in the didi rugby Gloucestershire set-up which also runs classes at Cinderford RFC.
didi rugby Gloucestershire's Suzanne Appleby-Jones said she was excited to be spreading the franchise to a new venue.
"Things are going well and didi rugby is building momentum," she said. "It has all been positive so far and we are getting some really nice recommendations on our Facebook account which is great to see.
"We have started working with primary schools as well and we have been very well-received there too."
* Book your child's free taster session at the launch on 12 January by visiting this direct link to the booking page on our website, by calling Suzanne on (07872) 921856 or by emailing suzanne.appleby-jones@didirugby.com *
Classes will take place at Highnam Community Centre, Newent Road, Highnam, GL2 8DG, every Saturday morning from 9.00am – 11.00am from 19 January.