In the summer of 2017, Emma Taylor had a life-changing epiphany.
Having helped out a friend coaching didi rugby classes in Stoneygate, Leicester, she was asked by didi's founder and CEO Vicky Macqueen to spread her wings and take on three classes in Hinckley.
It was a big step up from what she was used to and when she accepted Vicky's offer, her broad smile hid a fair amount of trepidation.
But Vicky had seen enough of Emma already to know what she was doing and the trust she put in her gave Emma the confidence she needed to take on the challenge.
Not only has she never looked back, but those moments in the Hinckley classes provided Emma with a moment of realisation…she had finally found her calling in life.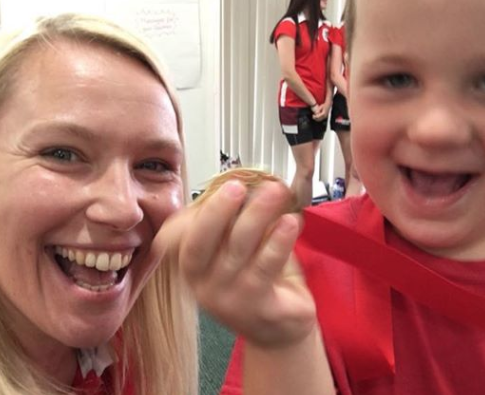 Big challenge
"It was a big challenge for me and I was asking myself if I can really do this," said Emma. I had worked in business and with kids before but there was still some doubt there.
"When I started enjoying it and realising I was fine, I suddenly had an epiphany. It was like I had found out what I was good at."
Later that year, Emma went full-time in Hinckley and early next year, she will become the owner of the business' latest franchise, didi rugby Rutland and East Leicestershire.
Emma is a RFU Level 2 rugby coach who spent her time learning off her mentor Vicky when she coached the Loughborough University team that Emma played for.
"Vicky coached me for six months as a player so I could learn why things were taught the way they were for my coaching ambitions with my local club Oakham," she said. "That was a big help.
"I qualified for Level 2 in December 2016 and, at the time, an RFU stat said that only 550 women were qualified to coach rugby. I wanted to become one of those stats and see what I could do.
Forming bonds
"In April 2017, my friend Marie asked me to take a didi class of reception and Year 1 in Stoneygate and I agreed on the spur of the moment. For that trust to be put in me was great. Having ownership of the session at short notice really challenged me but I started forming bonds with the kids and it was like we grew together."
Vicky took Emma under her wing when she moved to Hinckley and has helped and mentored her along the way. But Emma's personal development has also been crucial and a big drive in helping her make the decision to take on a didi franchise of her own.
"I have learned patience and tolerance for a child's learning process. It's invaluable if a parent can sit down and watch someone else get the best out of their child. I have been able to give other coaches ownership too as they have helped me out." Said Emma.
"I love that moment when you have been trying to get kids to do things and they trust you enough to do it for the first time. Parents have said to me: "Oh my gosh, they never do that at home!"
"I have them for 40 minutes a week to try and give them something to take away with them whether that be fun, laughter or new skills. I love building that trust with the kids and parents. The kids come to have fun but they are also exercising while they do so and that is great in terms of keeping them healthy."
Vicky said seeing Emma launch her own franchise was a bittersweet moment for someone she holds very close to her heart.
Passion and creativity
"I am sad to see Emma leave the Hinckley classes that we have both coached but she has so much passion and creativity that we agreed she should be coaching didi rugby in her own area of Oakham and East Leicestershire," said Vicky.
"I first met Emma at Loughborough University and, while coaching her, saw she was a real team player who I really enjoyed coaching.
"I thought she fitted in with our didi core values and we stayed in touch. She came to Hinckley to take classes here and went into schools and nurseries with didi rugby too.
"We quickly received great feedback from everyone about how good she was. I also realised how good she was and how much talent and ambition she had.
"She is a wonderful person and I am sure that she will be a great ambassador for didi rugby in the Oakham and East Leicestershire area."
* didi rugby Rutland and East Leicestershire will launch on Saturday 5 January.