didi rugby classes are growing in Leicestershire again with new launches coming up in Huncote and Stoney Stanton.
Sessions for all three didi age groups will be coming to both venues.
The Huncote launch will take place on Saturday 7 September at Huncote Leisure Centre with free taster sessions for all three age groups from 8.45am to 10.45am.
Regular classes with then begin the following Saturday at the same times.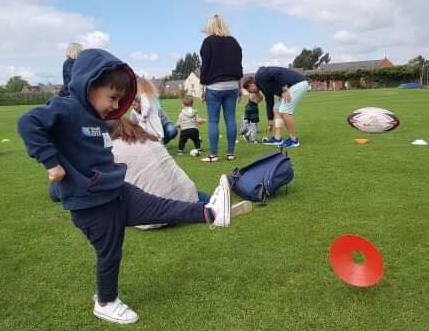 Regular classes
Meanwhile, the launch at Stoney Stanton will take place on Monday 9 September from 4pm to 5pm.
The venue for that will be the Stoney Stanton Village Hall and that is where regular classes will then commence from Friday 13 September from 4pm to 6pm, again serving all three didi age groups.
And there is a new venue for didi rugby in Lutterworth, starting on Saturday 31 August.
Due to Lutterworth Rugby Club having World Cup events throughout the autumn, didi classes will move to Steph's Swim School, Sheridan House, Gilmorton Road, Lutterworth, LE17 4DY. All visitors are asked to park in the nearby medical centre car park and walk up to the venue. Classes begin at 9.40am.
Dom Osborn will be head coach at all of the above venues. The secondary school PE teacher has already been delivering didi rugby sessions as a coach at other venues in the county and seen her daughter enjoy didi rugby sessions too.
didi rugby founder and CEO Vicky Macqueen said: "Because Dom has been coaching didi rugby for a while now, we already know the passion and energy she will bring to these classes.
"She has a great rapport with both kids and parents and, like Dom, we can't wait to get the sessions up and running."