Over 100 people turned up to enjoy the launch of didi rugby Gloucestershire at Lydney RFC in the Forest of Dean.
In bright sunshine, dozens of children and their parents enjoyed the warmth of the wonderful facilities as all three age groups got a first taste of the fun at didi's 11th franchise.
There was an incredible amount of experience in the coaching ranks on the day, led by didi Gloucestershire's head coach and former England international, Susie Appleby and didi rugby owner Vicky Macqueen.
Joining her were three England players, Danielle 'Nolli' Waterman, Natasha Hunt and Ceri Large, all with plenty of caps behind them.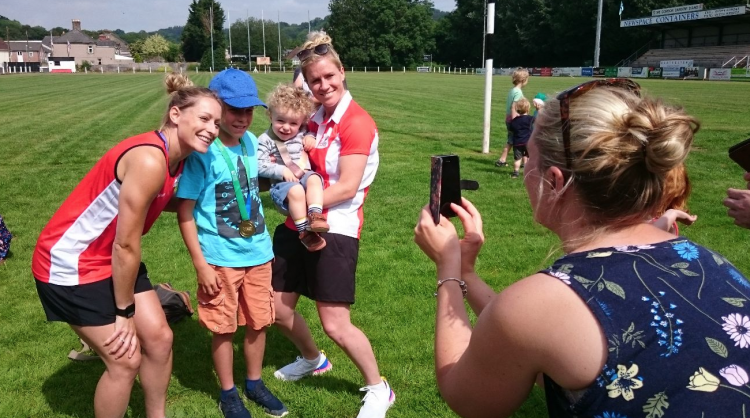 Sign autographs
The England trio took part in the classes and welcomed and chatted to visitors. They also found time to sign autographs and have pictures taken with kids and parents.
It all made for a wonderful day and Susie said it was the ideal start for her and fellow director, Suzanne Appleby-Jones' plans to expand over the coming months.
"It was a fantastic launch at Lydney RFC in the Forest of Dean and everyone seemed to thoroughly enjoy the experience," said Susie.
"Many families expressed their intention to join the didi rugby family and sign up for classes after seeing what it was all about.
"We are very grateful to our hosts at Lydney for making us feel so welcome and to our didi ambassadors: Nolli, Ceri and Natasha for supporting us.
"We will be opening more centres in the coming months and are excited about the future of didi rugby in Gloucestershire. We are looking forward to working with children, their families and the wider community."
So many happy people
didi rugby owner Vicky Macqueen said she was delighted to see 'so many happy people'.
"I am so proud of all the hard work Suzanne, Susie and their team did in preparation for their amazing launch day," said Vicky. "There were so many happy children and parents enjoying their first didi experience.
"I know these guys are going to have an awesome future with didi rugby Gloucestershire, which will only go from strength to strength."