didi rugby Reading owner Craig Hunter has been so struck by the support he has received since starting the business, he has turned it into a full-time franchise.
Craig took the decision after he and fellow coach Donna Clark were struggling to take advantage of new opportunities to grow their didi business because they simply didn't have the time to do so.
Just three months into their didi franchise and Craig has become a full-time business owner to make sure those opportunities don't slip by.
"It all started with a great conversation I had with Vicky Macqueen (didi owner) and has turned into a full-time business now," he said.
"It has been really enjoyable since we started but it had got to the stage where I was struggling to fit everything into three days a week and Donna was doing too much too.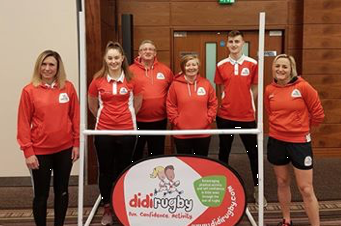 Time and energy
"We had invested time and energy into didi rugby but couldn't take advantage of the opportunities it was creating because we didn't have the extra time due to other commitments.
"I thought 'enough was enough' and I was brave enough to make the jump!
"We have three or four coaches involved and me and Donna both coach too so we have been splitting what we do. We have been going into different clubs and schools since we started and there is plenty of other interest out there too."
As well as taking didi rugby into schools around the area, Craig and Donna are currently hosting classes in Reading RFC on Friday and Saturday, Aldermaston RFC on Saturday and Woodford Park Leisure Centre on Monday.
"Rugby clubs in the Berkshire area are buying into it one by one and we have received some great support," added Craig.
"I have not been surprised it has gone so well but I have been surprised at how quickly it has grown. Vicky is a big driving force behind it and she has the same ethos as we do. It's all about engagement and there is certainly plenty of that about.
"We have lots of fun running the business and the kids enjoy seeing me melt when we are running around at classes. I am losing weight with every week that goes by!
"When adults and parents they see the kids smiling, they soon get it. Those smiles are infectious. Parents are engaged too and we make sure they are involved.
See kids having fun
"It's a business where I can spread good values, see kids having fun and do it within a framework that makes classes affordable to parents."
Vicky said that Craig and Donna's success was reflective of their hard work and was delighted to see their franchise thriving.
"It is great to see a franchise that began as part-time grow into something that is now a full-time business," she said.
"Craig and Donna have put in a huge amount of work to make sure didi rugby Reading has grown so quickly and been supported so well by parents, schools, clubs and businesses.
"They have a they have a great team didi ethic at Reading and have the same mindset and positive values at heart.
"I am confident with their drive and commitment, that growth will continue and more and more children and parents will begin to enjoy didi rugby classes.
"Like all of our franchises, whether they be part-time or full-time, they can rely on the full support of the didi rugby network and fellow franchise holders up and down the country."