Ambassador Rosemary Conley believes programmes like didi rugby are the long-term answer to the issue of childhood obesity.
She says that getting children active and learning the key motor skills that didi promotes from a young age, will make running around and having fun, second nature to them as they grow up.
And she hopes that will help guard against the growing risk of our kids becoming overweight through their formative years.
"Having had a background in diet and fitness, I know that getting children from the age of 18 months onwards to be active and have fun while doing so, is going to be the answer to the childhood obesity problem for generations to come," said Rosemary.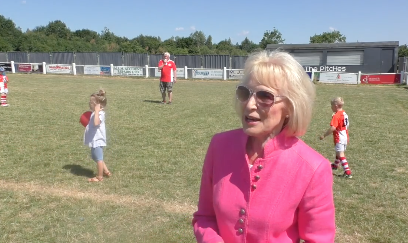 Running around
"For me, Vicky Macqueen is doing absolutely the right thing at absolutely the right time and I totally commend her for that.
"I saw all of the children and parents at the recent didi rugby presentation day and they were loving it. To see them all running around, smiling and having fun is music to my ears and sunshine to my eyes.
"I have presented 30 fitness videos in my time and I know that motor skills are something that you either have, or you don't. That balance and co-ordination is important and believe me, they are easier to learn when you are 18 months old, than when you are in your 40s!"