Young didi rugby coach Caitlin Clark is the star of a new feature article in the Daily Telegraph.
The 17-year-old daughter of didi rugby Reading franchise co-owner Donna Clark tells the story of how she has always had to battle against the system as a young female rugby player striving to be able to develop her skills at the same pace as boys.
Having played the game side-by-side boys as a youngster, things changed dramatically when mixed sexes were not allowed to play together from the age of 12.
All of a sudden, boys were playing on bigger pitches, playing longer matches, allowed to push in the scrum and hand-off, while girls were not.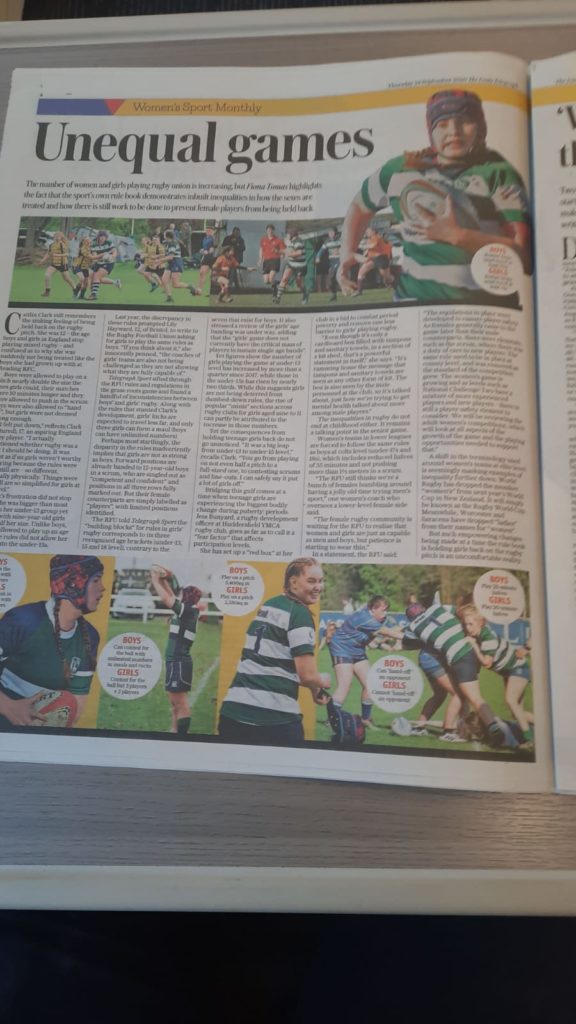 The Daily Telegraph
Caitlin, who has ambitions to reach the England national team as a player, said she felt held back and put down.
She told the Telegraph: "I actually questioned whether rugby was a sport I should be doing. It was almost as if us girls weren't worthy enough of playing because the rules were – and still are – so different, especially physically. Things were and still are so simplified for girls at that level."
As a teenager, Caitlin was always bigger than most other girls in her under-13 age group, yet she was forced to train with nine-year-old girls nearly half her size. While boys were allowed to play up an age group, the rules didn't allow Caitlin to move up into the under-15s.
Changes in the rules
The Telegraph feature goes on to outline Caitlin's frustrations as a female rugby player and cites other discrepancies and inconsistencies in the grass roots game facing girls, as opposed to boys. With the numbers of girls playing the game increasing, it will be interesting to see if the game's governing body (RFU) make any changes in the rules and structure in the coming years.
Whatever happens on the playing front, Caitlin is a hugely-respected member of the didi rugby Reading coaching team and is loved by dozens of youngsters she coaches on a regular basis.
Reading co-owner Craig Hunter said: "When didi rugby Reading launched in early 2018, Caitlin came along with Donna Clark, her mum and my business partner, to help us out. She has been with us ever since.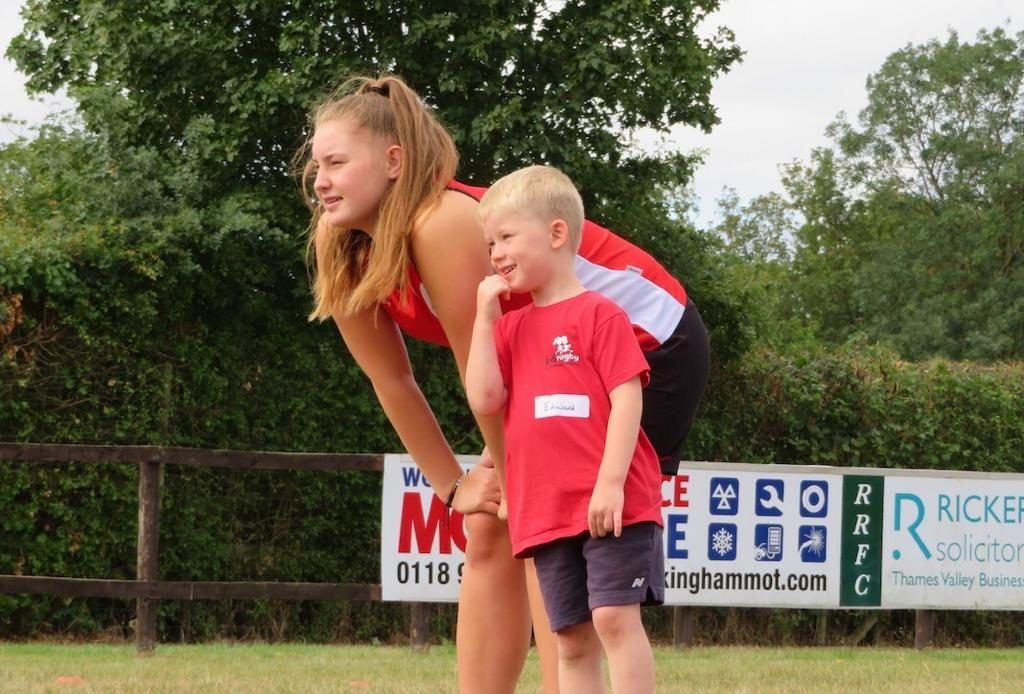 Confidence
"She has developed her confidence and coaching skills throughout this time and is everything we look for in a coach. She has excellent rapport with all the didi superstars and parents alike and is a great role model for them all – but in particular the girls.
"With the development of the girls game at club level going from strength to strength, we are really keen to progress the didi players into club rugby when they are ready to join the Under-6 age groups. As soon as we can get Caitlin on an RFU Level 2 rugby course, we will, and she can then look to lead sessions on her own and build a team of coaches around her to help didi rugby Reading grow.
"Caitlin is also very keen to deliver kids didi rugby parties as soon as we are able to so safely and in line with Government and RFU guidelines, something she will be excellent at I have no doubt. If we could clone Caitlin we would.
didi rugby coach
Mum Donna added: "As a parent, I can't put into words how proud I am of Caitlin, she has been playing rugby since she was six years old and has always shown great tenacity and passion for the game.
"With such determination, she has gone from strength to strength both on and off the pitch. She never ceases to amaze me with everything she has achieved whether it be at club, county and Centre of Excellence level.
"I have also seen her blossom as a didi rugby coach, she has such patience and can instantly spot a child that might be struggling or needs a bit of extra support and just knows how to make them smile and helps them gain their confidence.
"Her years as a rugby player have helped bring her expertise to a coaching role and through creating her own session plans ensures that every child progresses with the fundamentals of the game, whilst having fun!"
Read more: England star Alex Matthews launches didi rugby Worcester
Read more: didi rugby is booming after 'survive then thrive' attitude during covid-19 lockdown
WATCH: Reading coaches delight at 'hilarious and fulfilling classes'…