The driving force behind the launch of didi rugby's latest franchise, based at Cobham Rugby Club in Surrey, says she was 'born with a rugby ball in her mouth"!
Vicky Alexander is a New Zealander who came over to England to play women's Premiership rugby and did so very successfully for both Wasps and Richmond.
When she finished playing, Vicky moved into coaching and, after four years of developing a community set up at the club, she will now be leading didi rugby Cobham with the full support of the host club right behind her.
The launch on Sunday 9 June is something that both Vicky and everyone involved with the club are very much looking forward to because the didi values fit in perfectly with what the club are trying to achieve.
"I was brought up with rugby and in my early years, I didn't know any other sport existed!" said Vicky. "We are born with a rugby ball in our mouths in New Zealand!
"Children at English schools always go out to play with a football. But I feel so passionately that every child should be given the opportunity to experience rugby because it is such a great sport with great values. We will be giving children that chance through didi rugby.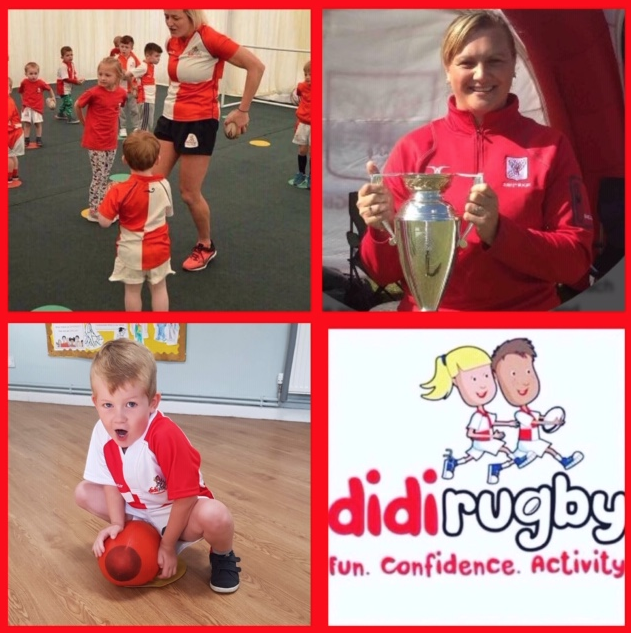 Community
"I first met didi rugby founder Vicky Macqueen through the sport and was looking to get involved in something like this for a while. I did my research and the fit with didi looked perfect for the values we have at Cobham and the sort of things that our community wanted.
"A lot of work has gone into our relationship with the local community over the past four years and I have been working really hard to ensure that our work with schools in our area is in line with Ofsted. That is something that Vicky has been doing since she set up didi rugby.
"The fit with didi rugby felt in line with everything that I believe in.
"It was not a hard sell to the club either. didi rugby is run with the same beliefs as the club and the way in which it wants to develop. It was such a natural progression.
"Cobham have been 100% behind me and I could not have asked for a more supportive club. It has not been hard work to introduce new ideas and they have backed everything I have come up with."
Cobham Rugby Club is a huge part of the local community in the heart of Surrey.
It runs four senior teams and large minis and youth set-up which goes from Under-5s right up to Colts.
Strong values
Set up in 1930 with a proud history, strong rugby values permeate the club at all levels and those values will blend perfectly with didi rugby when classes begin.
And there is plenty planned from the word 'go' with six sessions a week expected after the launch, May half-term camps, summer holiday activities and then a further kick-on in September when school term time resumes.
didi rugby founder and CEO Vicky Macqueen said she was extremely excited at what is in store for didi rugby Cobham after the launch.
"Vicky and everyone at the club are hard-working and dedicated to bring the sport to as many youngsters as possible," she said.
"Cobham is a club with a rich heritage and the values it holds fit in perfectly with the driving force behind didi rugby.
"With Vicky's passion and knowledge a huge driving force, I am sure the franchise is going to go from strength to strength and didi HQ will be right behind them every step of the way."