Franchise manager Sanchia de Lacy says didi rugby has seen people from all sorts of professional backgrounds and personal situations show an interest in opening a franchise over the past 12 months.
Founded by former England international Vicky Macqueen (BEM), the company has just announced the launch of its 21st franchise which will be opened by a former member of the armed forces in Lancaster and Kendal this Spring.
Other franchises have opened up around the country from Swansea to Twickenham and from Stafford to Reading over the past year. And didi rugby has been taken fondly into the hearts and minds of the children and parents who have become part of a growing success story.
With a strong team of experienced experts firmly behind the launch – and continued growth – of every franchise, Sanchia says she is looking forward to another busy 12 months ahead.
Not only will that involve supporting current franchisees with financial and practical advice at regular intervals, it will also involve opening new businesses around the country which can be run on a part-time or full-time basis.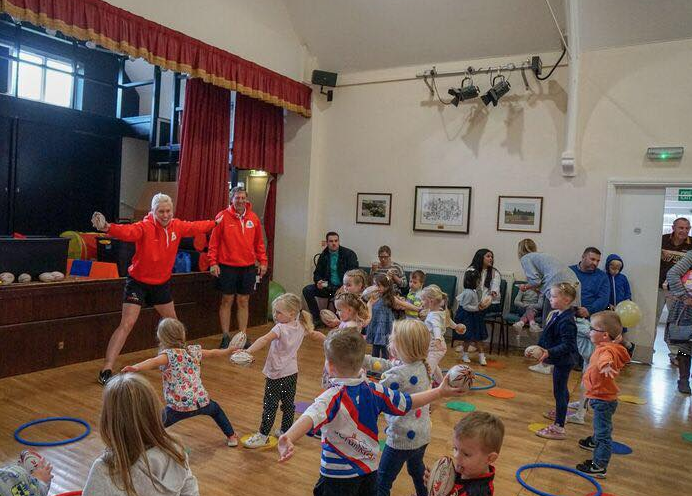 Proposals
Sanchia says she has been excited by the wide variety of proposals she has been dealing with, which really showed a spike when people started to recognise the didi rugby name, brand and values associated with it.
"We have seen a pull in people from all backgrounds wanting to be part of the didi family and adopt our values and drive for getting kids active," she said.
"Each franchise owner brings a different skill and experience into the team, and that is what our franchising model is – a team – and a tight-knit one at that.
"We have seen interest from many ex-players, current rugby coaches and mums wanting to have their own business and get involved.
"We have also been approached by rugby clubs who want to take on a franchise themselves, business investors and other people who are simply looking for a change in their purpose in life.
Competitively priced

"Initial investment in a didi rugby franchise is very competitively priced and relative to the area in which the franchise would be operating in.
"The support we provide as didi HQ is very structured, detailed and aligned to the needs of the new business."
"We have seen massive growth in the last 12 months and I know there is going to be another busy 12 months ahead of us as we continue to spread our values of getting children healthy and active around the country.
"Our wonderful mascots, Dougie and Daisy are coming to every franchise launch day and it's fantastic that our founder and CEO, Vicky Macqueen still comes to every launch too and is very involved with the planning and promotion of each event."
Are you interested in having a chat with Sanchia or Vicky to find out more about franchising options with didi rugby on a full or part-time basis? If so, email vicky@didirugby.com or sanchia.delacy@didirugby.com – or call Vicky on 07812 082375.